The complete solution for last mile logistics
Improve your productivity and make your daily work of your drivers easier with our easy and automated SaaS delivery management platform.
The best delivery routes in seconds
Live tracking of drivers using geolocation
Paperless roadmaps for your drivers
Automated sending of delivery notes or work reports
5-star experience for your customers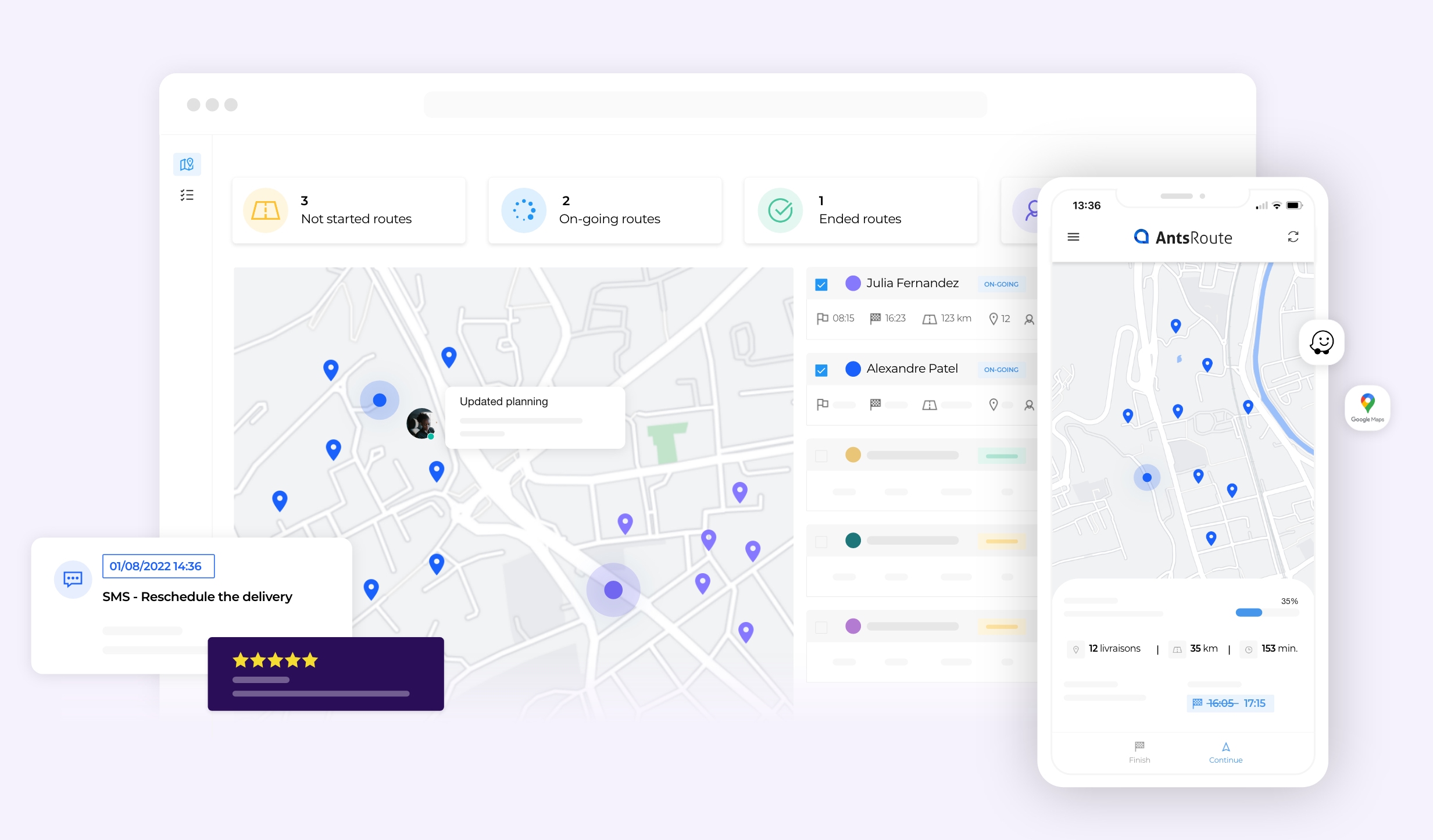 300+ businesses manage their deliveries with AntsRoute
The adaptable and scalable software which meets your last-mile challenges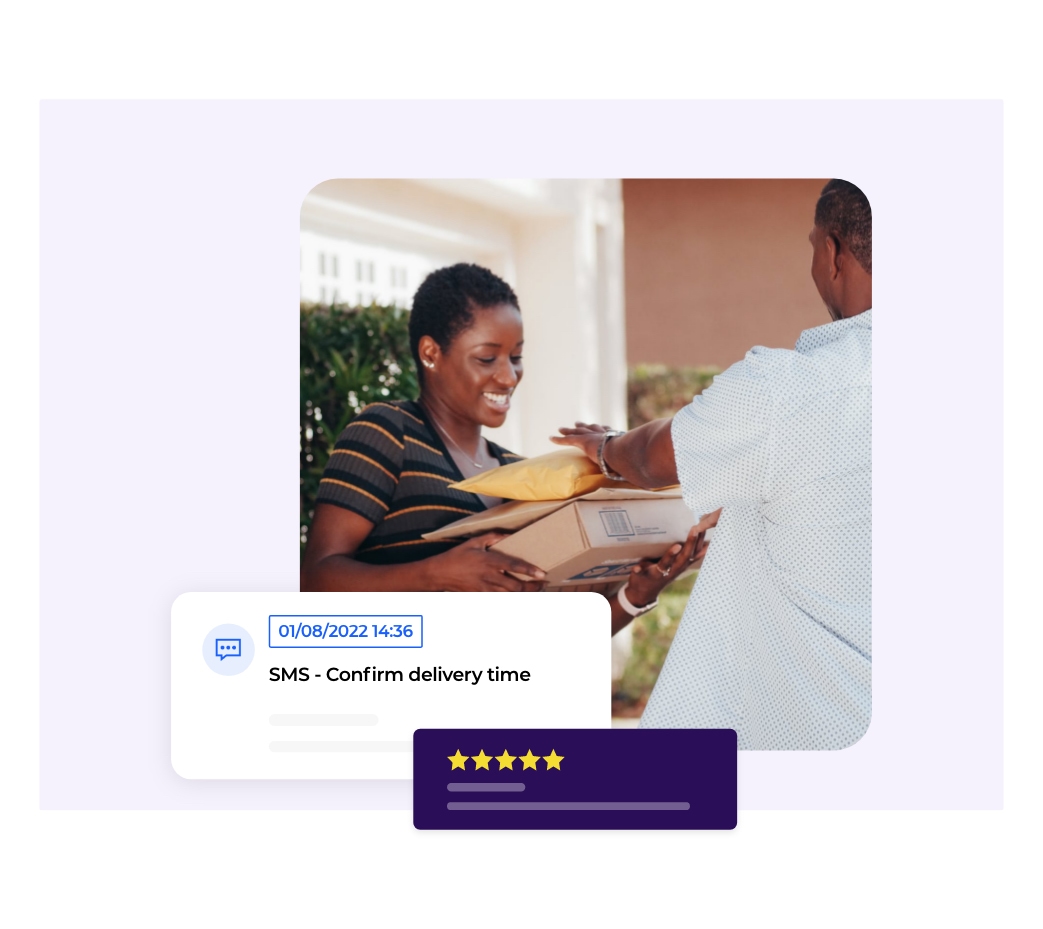 Provide customers with perfect delivery or job
The consumers are now demanding faster and faster deliveries, with a wide choice of delivery time slots. In addition, customers are looking for information on the shipment of the package, the estimated time of arrival of the driver, etc.
The delivery is the key moment not to be overlooked in order to offer buyers the best possible experience. This is where you can create customer loyalty.
That's why you must offer perfect delivery experience, with on-time delivery through feasible routes and an effective communication strategy regarding the delivery.
Enhance dispatch rider satisfaction
Although logistics activities are expanding, companies are not able to hire enough delivery drivers to meet the demand.
The implementation of a strategy to prevent turnover and retain delivery staff is now part of the logistics manager's mission.
To do this, it is necessary to improve the level of satisfaction of the drivers and to strengthen the relationship of confidence between them. In order to reduce the stress level of the delivery drivers and improve their working conditions, you should schedule balanced and feasible routes and provide paperless itinerary.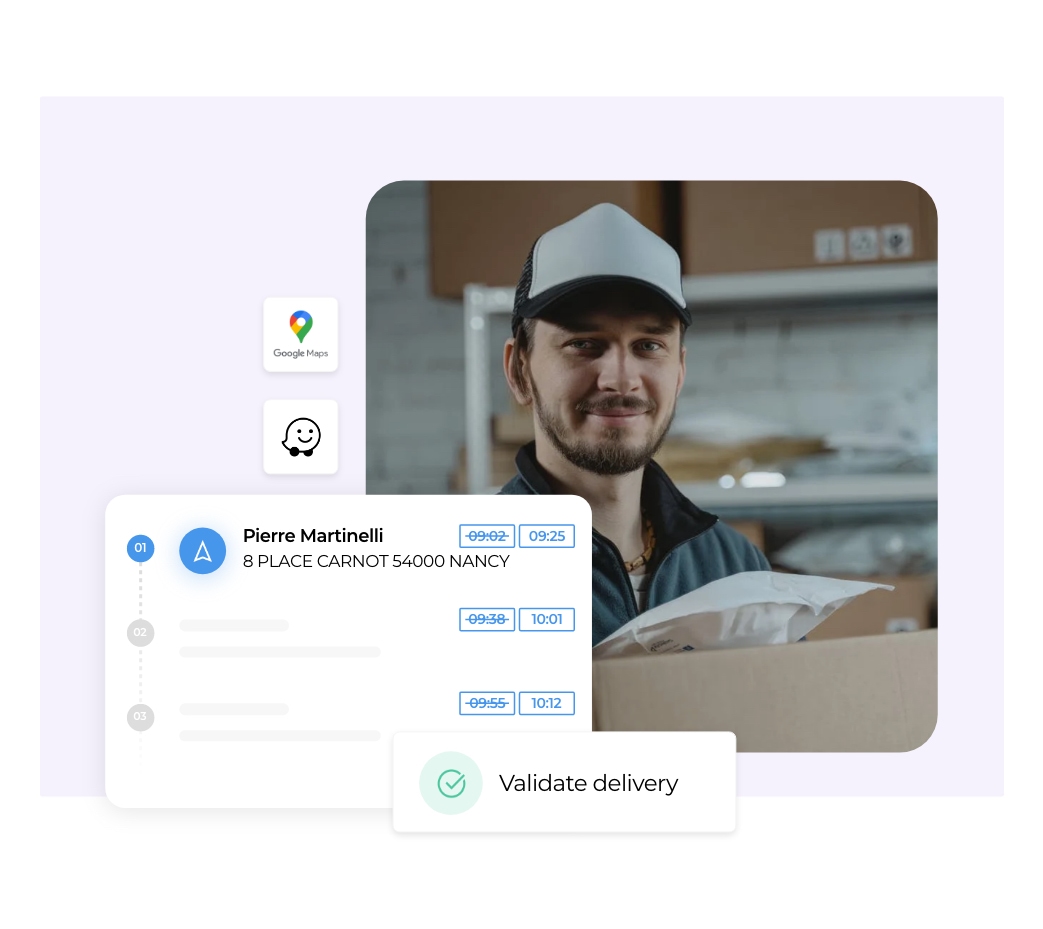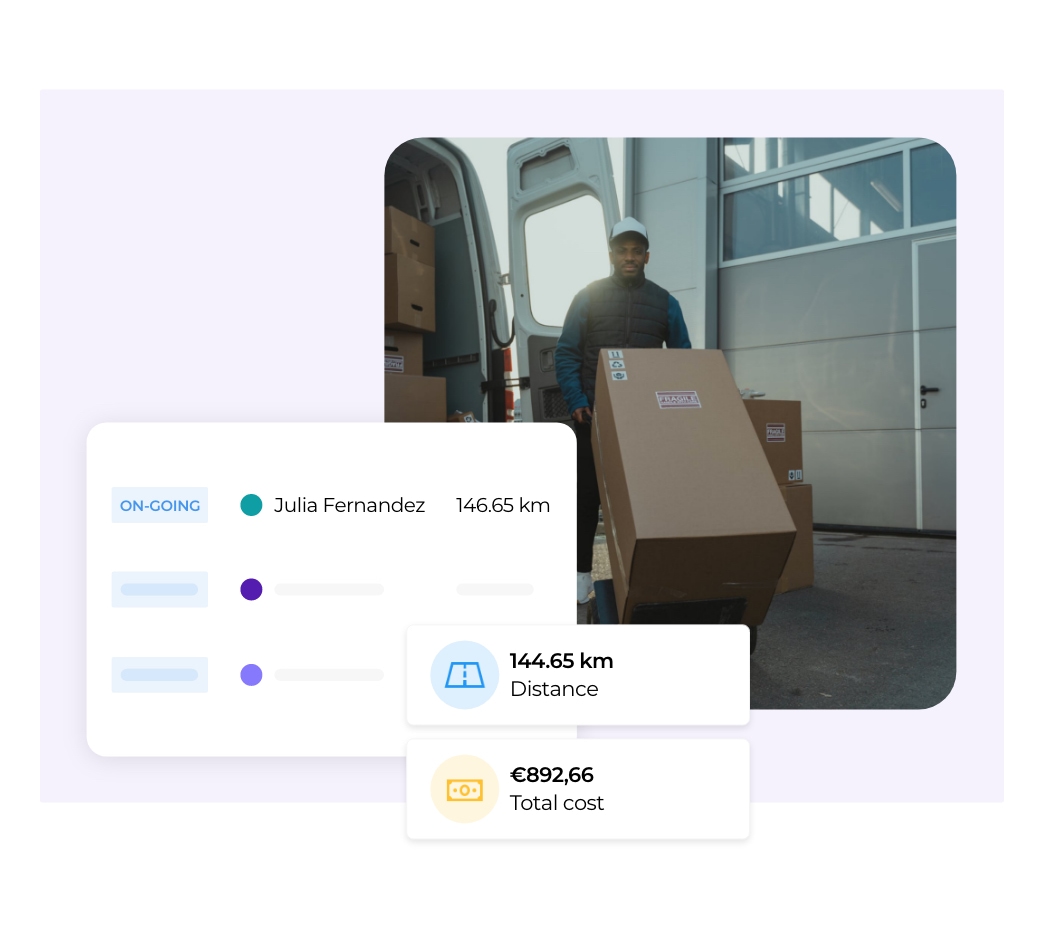 Meet the last mile challenge without lowering margins
Due to increasingly restricted access to the town centre, the growth of express deliveries, rising fuel prices and the growing demands of buyers, organising delivery routes is not an easy task.
By using digital tools tailored to the transport industry, you can take up the challenge of the last mile, the most expensive, complex and polluting component of the supply chain.
Therefore, when organising delivery routes, you need to automate data flows to better coordinate information, avoid input errors, speed up processes and improve productivity.
Offer sustainable delivery services
Due to the acceleration of global warming, public authorities and consumers are multiplying the incentives for more sustainable management of delivery routes.
Switching to carbon-neutral delivery methods has a cost, which is difficult to pass on in the final price. You need to successfully implement more environmentally friendly deliveries without increasing costs.
To reduce your company's carbon emissions, you need to avoid unnecessary or empty trips and limit failed deliveries during the first attempt.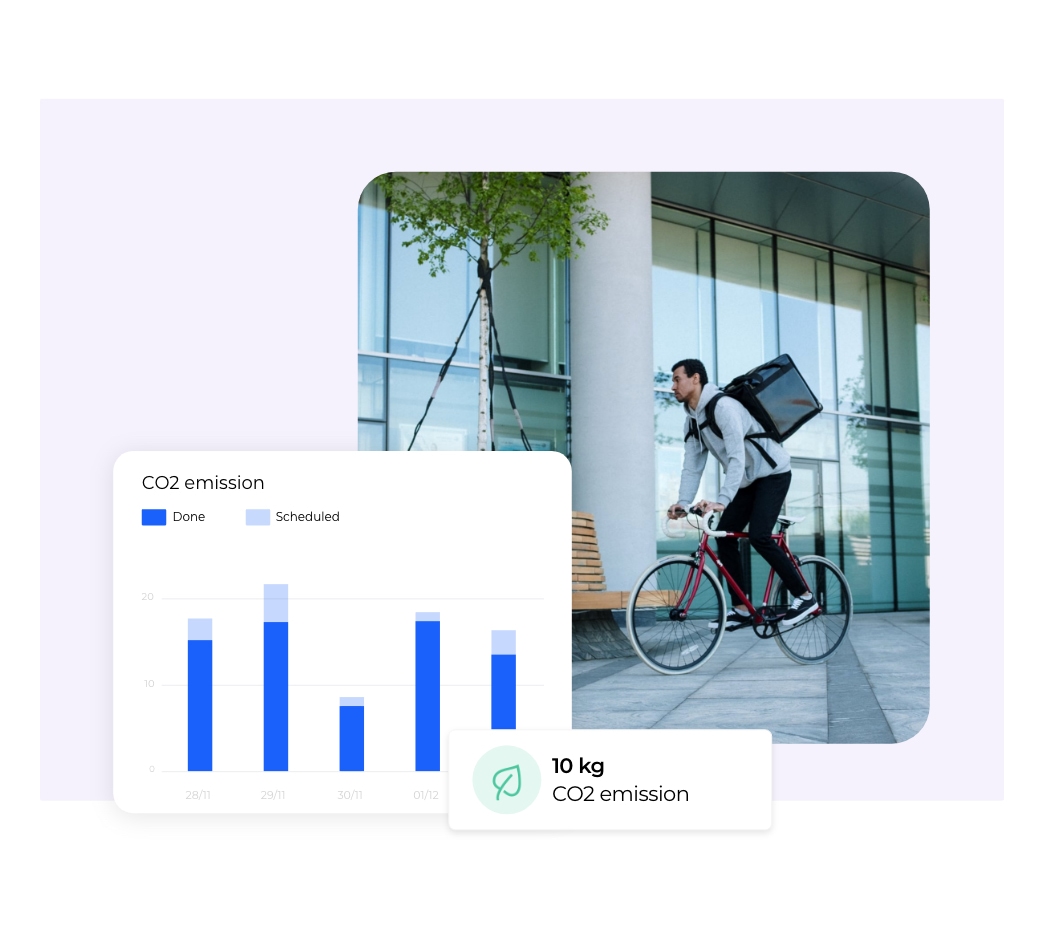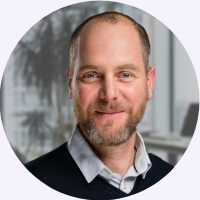 Marc Grojean
Co-founder of AntsRoute
The environment is one of our main concerns. In fact, we decided to create AntsRoute in response to these new environmental and societal challenges. We have developed solutions enabling companies of all sizes to transform the organisation of their last-mile delivery routes with a positive impact on the planet.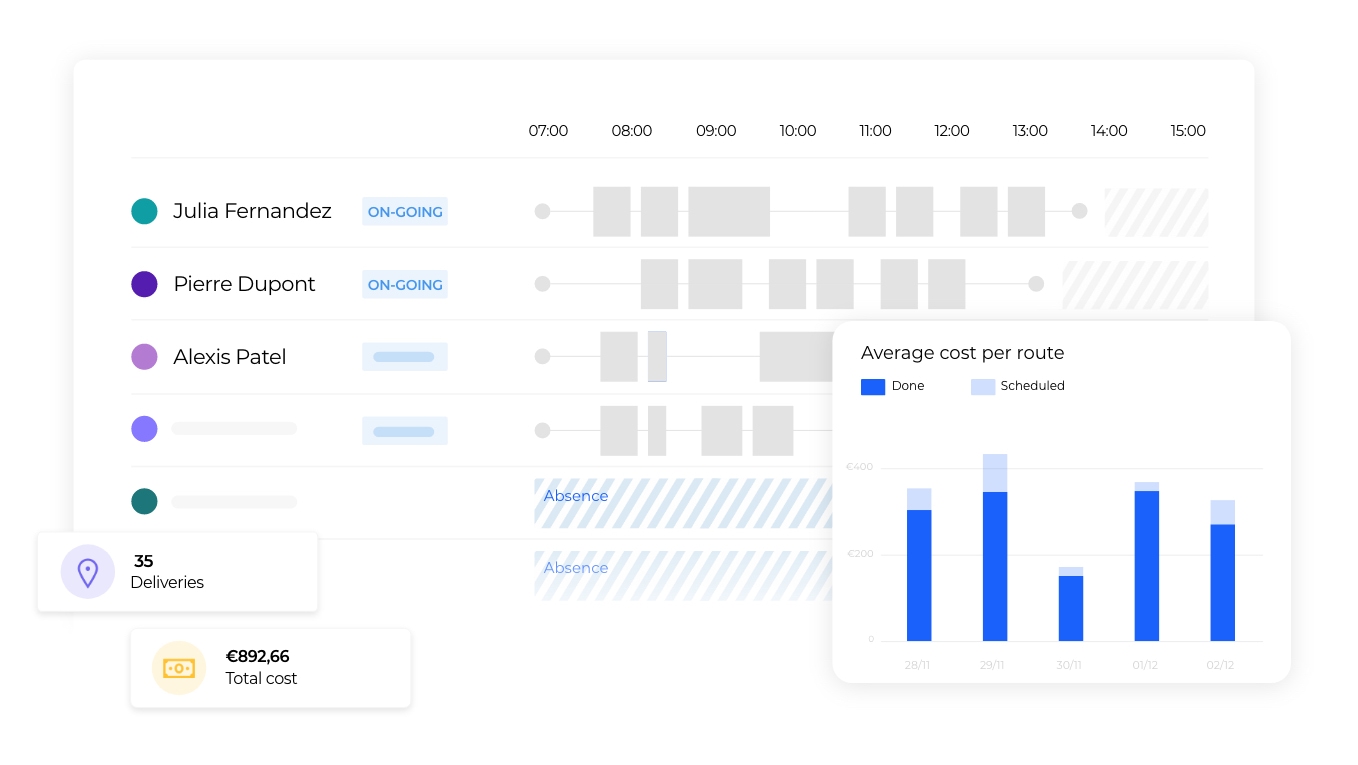 Make it easier to manage deliveries
Give your operations manager the possibility to easily schedule, optimise, organise, track and analyse your last mile delivery operations from a single dashboard.
Assign deliveries according to your constraints
Synchronise WooCommerce, Prestashop, Odoo or Shopify
Optimise routes using data from Excel or ERP files
Track in real time your delivery drivers using geolocation
Make the administrative management of your deliveries paperless
Analyse the performance indicators of your business
Improve the daily work of your drivers with digital itineraries
The AntsRoute mobile application enables your delivery drivers to retrieve the steps of their routes and to exchange information with the operations manager and your customers easily. You improve the autonomy of your deliverymen, and you keep perfect overview of your activity in the field.
Start navigation to the next step
Get delivery details
Automate the sending of proof of delivery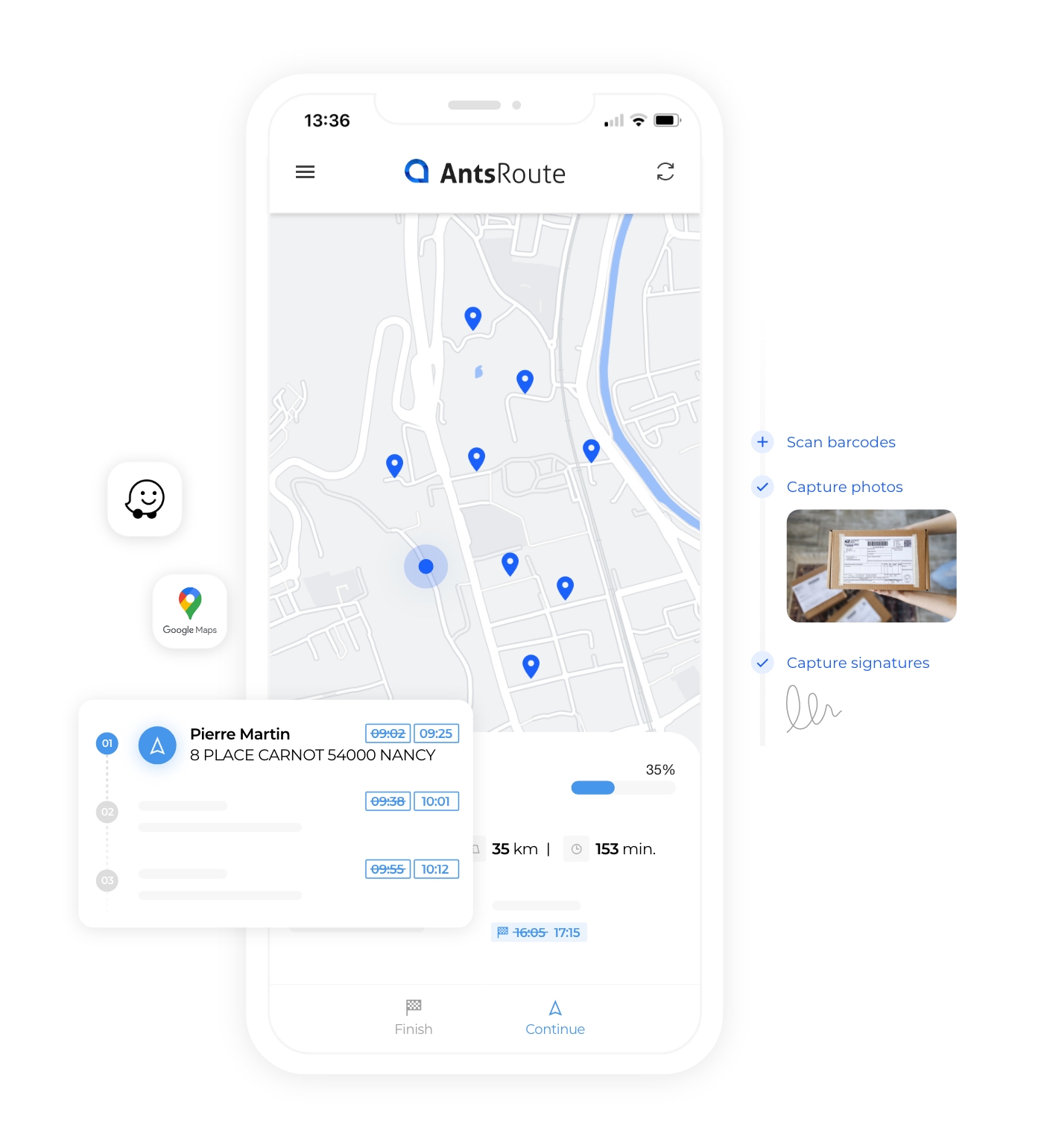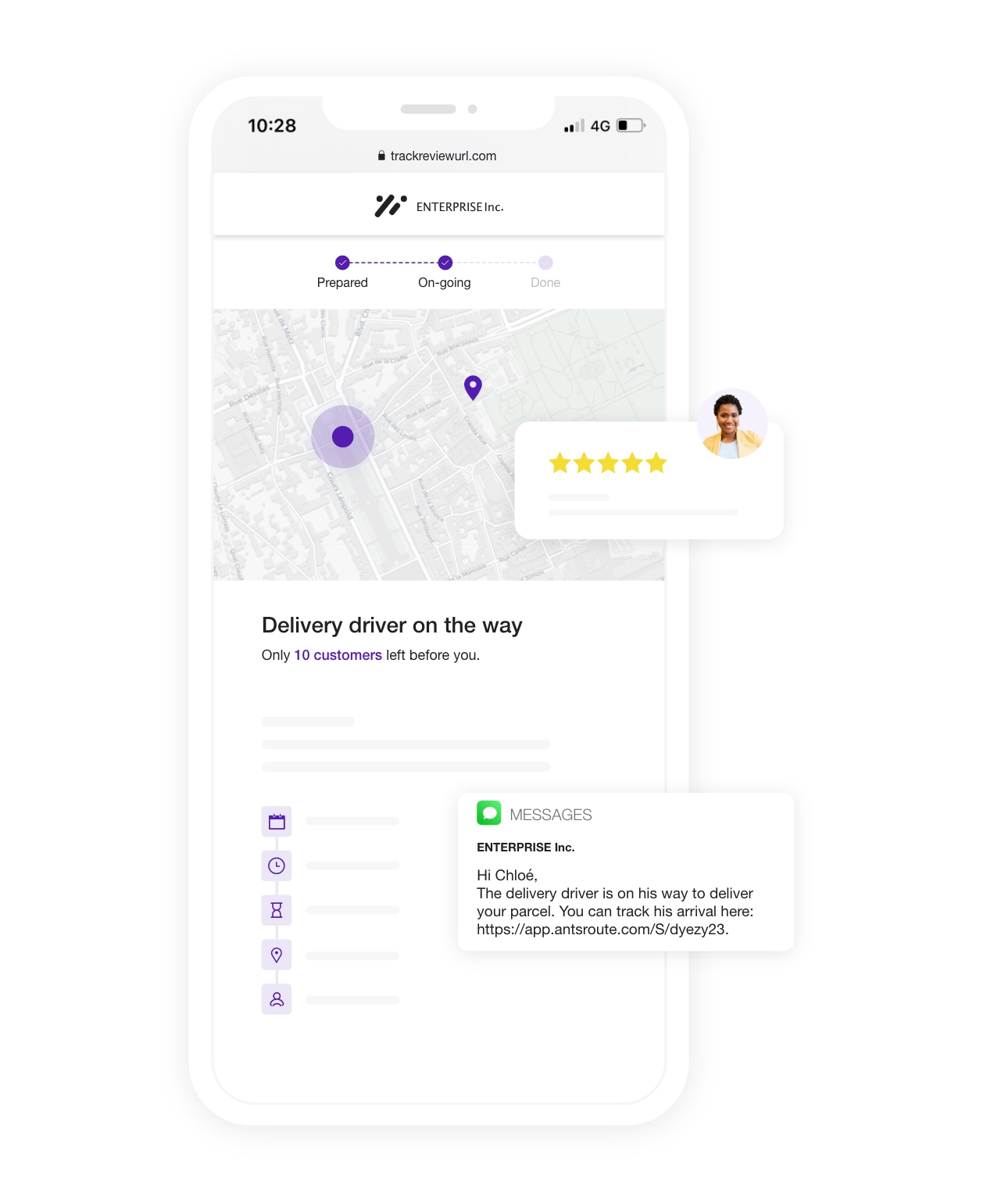 Offer a 5-star delivery experience to your customers
Retain your customers by offering them the best delivery experience. You ensure better respect of the communicated delivery times and provide in real time at each stage all the information to enable the customers to prepare the arrival of the driver:
SMS or email notifications with custom messages
Reminder of the estimated time of arrival (ETA)
Link to reschedule the delivery if not available
Message when starting the route with driver tracking link
Sending the delivery note 30 minutes after the delivery
Link to evaluate the quality of services after the delivery
More deliveries, less unnecessary kilometres, better customer experience
Deliver to more customers
Increase the productivity of your drivers by reducing driving times and empty vehicle running
Save time
Make it easy to schedule optimised routes by automating processes.
Improve the quality of services
Improve the level of customer satisfaction by communicating respected delivery times.
Integrate AntsRoute with the tools you already use
If you already have tools to manage your stocks, orders, deliveries, customers or invoicing, benefit from our integrations with many applications. Connect your order and stock management system or your ERP with our API.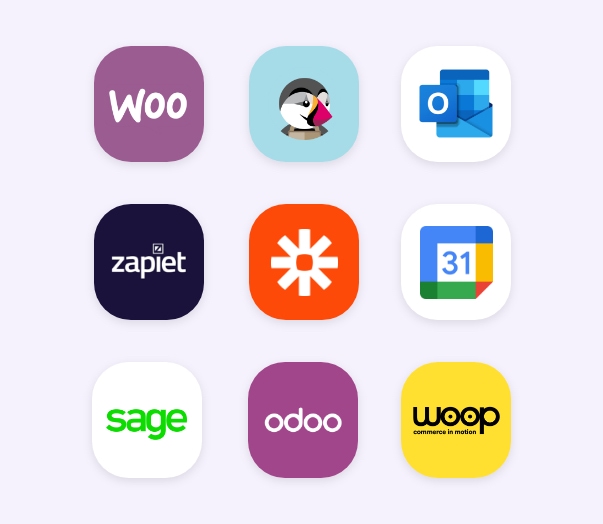 The route management platform adaptable to every industry
AntsRoute helps Licorne Express handle higher number of deliveries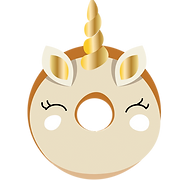 Maïté Galou
Founder of Licorne Express
The use of this software has helped us to make deliveries 40-50% faster. AntsRoute also allows us to handle larger number of deliveries on peak days such as Mother's Day or Christmas.
Challenge
Licorne Express, which delivers cakes and pastries, used to schedule its routes using Google Maps. But as the business grew and the number of deliveries it needed to organise continued to increase, the company was looking for a solution.
Solution
In June 2021, Licorne Express tried out and switched to AntsRoute. Thanks to this new organisation, the company is able to handle higher number of deliveries during peak days such as Mother's Day and Christmas. The geolocation system offers better tracking of couriers, and consequently, more relevant responses to customer requests.
Functionalities
Import of orders
Geolocation of delivery drivers
Analyse of indicators
Ready to get started?
Start your free trial and get direct access to all the features. You can also contact our team for assistance in setting up the software.