Route optimization software: why and how to choose?
Route optimization software helps you to manage your routes in the most efficient way. To choose the right tool, AntsRoute gives you some tips.
Published on 31 May 2022 • Reading time: 10 min read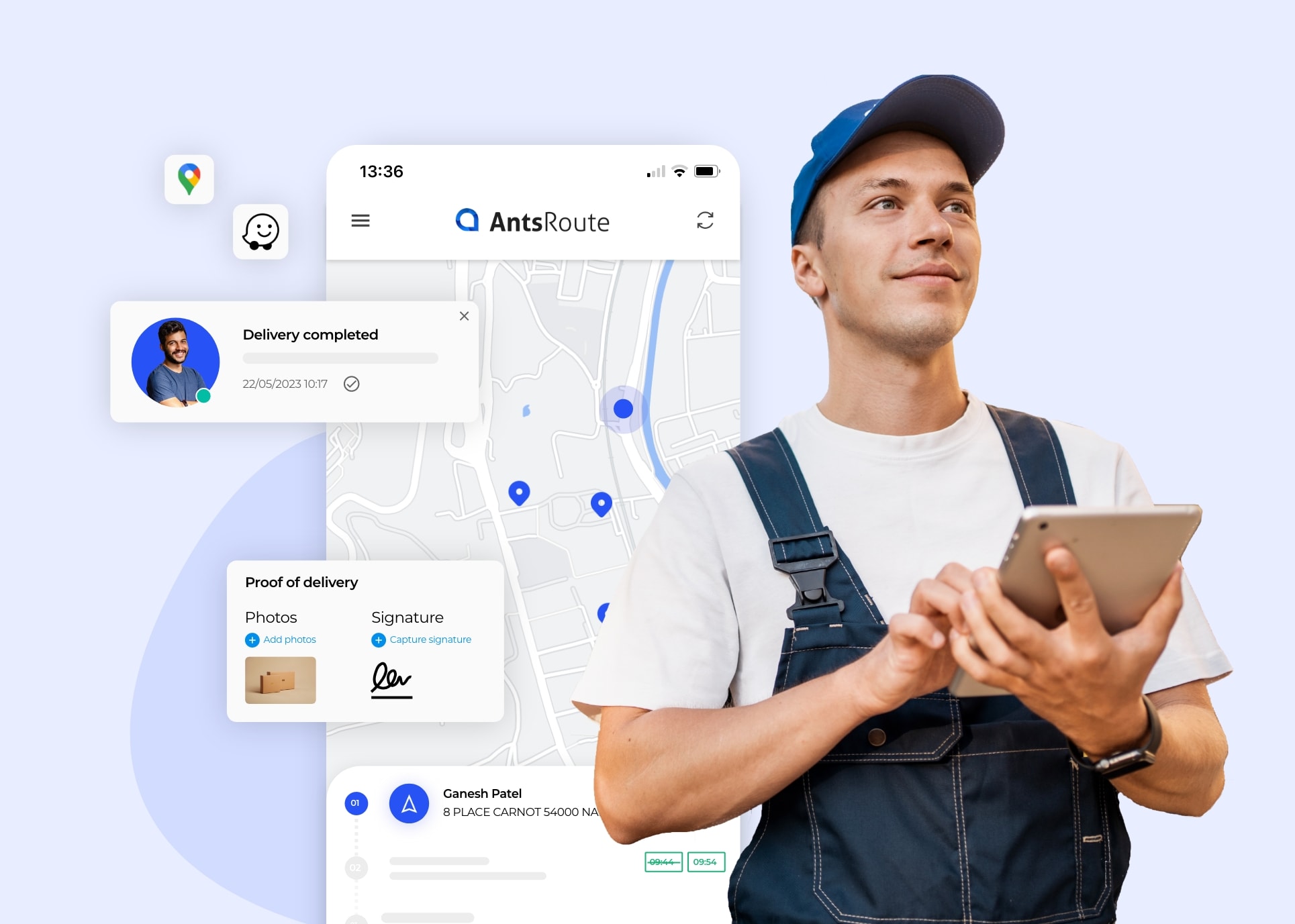 A route optimization software is a business tool which organizes, schedules and optimizes your delivery, field service operation or home visit routes.
To help you choose the right route optimization application, here is a guide with our best advice:
What is route optimization software?
First, we can define a route as an itinerary passing through different locations before returning to its starting point. For each of the visited addresses, different actions can be carried out: shipment of goods, pickup of samples, maintenance operation or patient care. Depending on the type of service, some constraints must be taken into account: skills, capacities of vehicles, etc. The route optimization is about determining the best route to complete these field operations by minimizing the number of miles traveled between two stops and by taking into account all the business constraints.
A management software dedicated to logistics
The management software aims to support a key area of your operational activities. In logistics, it usually involves the following areas:
Integrate physical flows into your IT system ;
Ensure the smoothness, monitoring and security of your activities ;
Allocate the required resources for proper compliance ;
Manage the system according to the impact of internal and external factors ;
Report on activities and make the right decisions.
Logistics Software is often connected to the external environment, because of the collaborative chains it sets up between the stakeholders.
Choosing a route optimization application
What is the best software for optimizing your routes? It's the tool that integrates with accuracy and ease the daily constraints of your industry. A business solution which must also adapt to the development of your activities over time.
Here are some examples of operational settings :
A vehicle fleet which is going to evolve ;
Highly flexible loading capacities ;
Flexible working areas ;
Internal processes to be synchronized ;
Agile resource assignments.
The logistics of delivery, field service operation or healthcare routes must be part of the competitive advantages of your SME. This is a key step in your digital transformation.

Effective framing and support
A software to organize your routes must provide features that are tailored to your business industry. Software publishers usually start with a specific industry: logistics, building industry, health, etc. The specificities of other businesses are integrated into the successive developments of the application. The answers to the customers' requests ensure these technical and business evolutions.
As you know, each industry has its own definitions, codes and culture. Beyond the features and algorithms used in the route optimization software, this may explain the more or less intuitive use of the solution and the different feelings about it. This is due both to the interfaces and to the processes used. The relationship with the publisher and the quality of the support team (Customer Success Management) are important to get the best from the tools.
This type of software is often made up of several modules. The tool must communicate with other business solutions that you already used. This can be more or less expensive in terms of integration. This point should be considered before making your choice.
Therefore, the first scoping is important to determine the factors impacting the route and the reliability and performance of your entire information system. During this step, in addition to the key elements of setting up of the solution, it is important to have personalized support in order to properly identify the issues. It is necessary to be understood in order to reinforce your competitive advantages, in addition to the productivity of your routes.
What are the advantages of this type of software?
There are many benefits of using a route management solution, including:
Lower your operational costs on the use of vehicles by at least 20% ;
Gain productivity with better assignment of resources ;
Release energy for higher value-added customer tasks ;
Meet customer requirements with customized experience ;
Improve integration and monitoring of data in your system ;
Improve the quality perceived by your customers and key partners.
In which cases should you use a route optimization software?
If you manage many field workers, drivers or technicians, or a significant amount of deliveries or home visits, the decision to use software can quickly become necessary.
In concrete terms, when should you use software to optimize your routes? When does a route scheduling system become cost-effective? Well, the answer to this question is determined by the complexity of the scheduling. The more complicated and numerous the constraints, the more time-consuming, unsuccessful and, above all, costly is manual route planning.
Factors to analyze to determine the interest of a route optimization software
First, you need to consider several factors to determine the value of a route optimization tool. In particular, you should consider the:
Number of field workers.
Number of operations or deliveries to be daily scheduled.
Level of constraint of these tasks (customers' requirements in terms of deadline and time slot, availabilities and working hours of workers, capacities of vehicles, etc.).
From how many field workers should you use a route planning software?
Well, it's not that easy to answer this question. Manually organized routes might be possible when you need to schedule few daily tasks for one or two field workers.
But using a route optimization software for a single driver can also be profitable. Indeed, some of our users with a single-vehicle fleet report gains in productivity with AntsRoute. For example, Cyprien Ripoteau, manager of Agapes Traiteur, summarizes the benefits of our solution for managing the routes of his driver: "The AntsRoute software has been optimizing our daily deliveries for over a year. It helps us save time and money! We no longer have to worry about organizing our deliveries, so we can handle more orders."
Finally, the use of route building software can be beneficial from a single field worker.
From how many tasks per day should you use a route planning software?
First, many people consider planning their routes with Google Maps. The navigation tool does make it possible to schedule simple routes with 10 stops. However, while the tool makes it possible to find the fastest route between two stops, it does not determine the best order for visiting these 10 stops. To organize these routes, professionals need to automate the calculations using a route optimization solution. Thus, starting from a dozen tasks to be scheduled on a daily basis, a route optimization tool is profitable.
The three types of business constraints to be managed by the scheduler
Google Maps does not take into account the business constraints which require assigning some tasks to one worker rather than another.
The following constraints must be managed when scheduling routes:
Vehicles – capacity, cost of use, unavailability, engine and parking location.
Field workers – working hours, breaks, absences, departure and arrival address and skills.
Customers – opening hours, desired time slot of visit and geographical distance.
There are other factors that must be considered when scheduling. For example, weekly, monthly or yearly recurring visits, preferred workers for some customers or patients, the need to load goods at one address before being delivered to another, tasks or deliveries that must be prioritized, etc.
In other words, when you have to manage two of these constraints, building your routes by hand becomes an expensive headache for your company. The use of a route optimization software then makes sense.
The two main uses of a route optimization software
A route optimization solution can usually be used for a one-time study or as part of daily operations. It can therefore be strategic or operational.
Strategic software for one-time study
If you need the software only one time, we are talking about the strategic use of the route optimization system. For example, you complete the same delivery routes from one week to the next for the same customers, and you want to optimize these routes only once. Also, you would like a study to determine the warehouses required in a given area according to the location of the customers. In this case, you do not need to subscribe to a route optimization tool. You can simply order a study from operations research experts. Good to know: AntsRoute has a team of PhD's in R&D who can respond to this type of request.
Operational software for day-to-day use
An operational route optimization software is an application that is used on a daily basis by the scheduling team. The first feature consists in planning deliveries or tasks, either as the calls come in, or in one single operation over a period of time. For example, using an import file. By smartly carrying out this first planning step, the second one, which makes it possible to build the routes, will be fast and optimized. Here again, the power of the algorithms ensures the performance of the optimization. Finally, to manage unforeseen events, some operational route optimization software offer a third feature: the real time route tracking.
How to ensure the performance of a route optimization software?
The performance of a route optimization software can be determined according to the optimum reached in a defined time. This analysis must take into account four criteria:
The objective of optimization ;
The customer promise ;
The business constraints associated with your organization ;
The required optimization time.
Thus, to ensure the suitability of a software for your use, it is necessary to properly define your needs.
Determine the desired optimum
First, it is necessary to make sure that the optimization function corresponds to your needs and to the operational performance you are looking for. For example, some companies want to minimize the number of miles regardless of the number of workers or vehicles used. In contrast, other companies want to maximize the number of tasks in a given category.
By optimizing their routes, professionals are looking first of all to maximize the number of tasks or deliveries completed, while limiting the number of drivers and vehicles required and reducing the number of miles traveled between two addresses.
Define your customer promise
By defining the desired operational performance, you must also take into account your customer promise. Thus, the definition of your customer promise impacts the optimization function. For this, you need to answer these four questions:
What do you guarantee to your customers?
What are the distribution or service deadlines (24 hours, 1 week)
Do you let your customers choose a time slot?
Do you impose the date of visit to your customers or not?
Determine the business constraints
For professionals who have been working for several years in a specific industry, defining their business constraints is not easy. Most of these constraints are usually rooted, but not expressed. If you ask for a route management software demonstration, the expert will probably ask you about your constraints.
Define the desired optimization time
The route optimization requires repetitive calculations. The higher the number of iterations, the better the optimization. It is therefore necessary to ask yourself: how long are you willing to wait to get a result? Depending on the number of deliveries or tasks to be assigned, the number of vehicles or drivers to be managed and the level of constraints, the route optimization expert can advise you about suitable optimization time.
How to choose the right operational route optimization system?
Finally, how to choose the right route optimization software. There are four criteria to consider:
Optimization engine adapted to its use ;
Extensive software features adapted to your business ;
Ergonomic and user-friendly interface ;
Good availability and integration possibilities.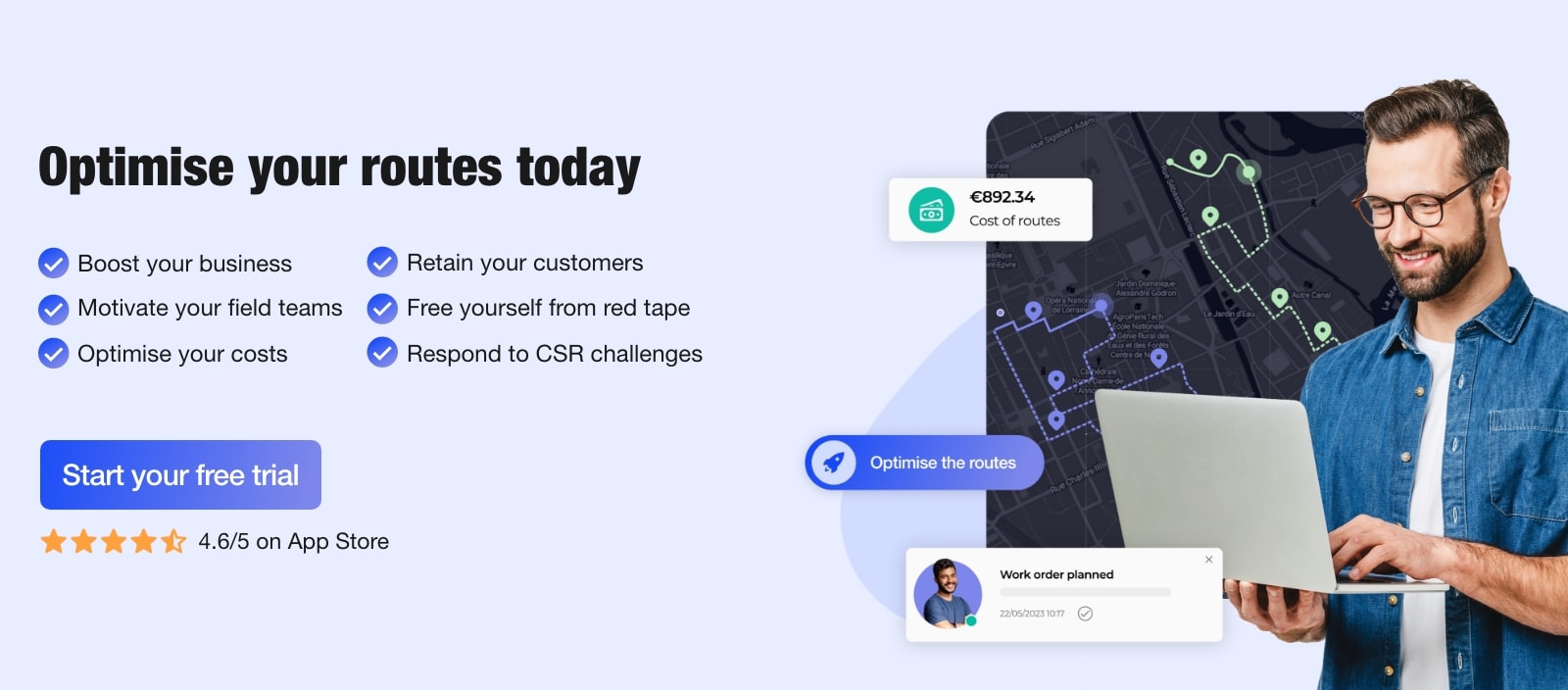 Confirm the power of algorithms
The expression of needs helps to define the performance and quality of the route optimization software. To do this, several tests are used to confirm the power of the optimization algorithms.
Validate the features
Today, the route optimization software often offers other features in addition to the optimization ones. Some functionalities are similar to those offered by Transport Management Software (TMS) or Field Service Management software. These additional features are related to customer relation, driver navigation and reporting (service report, delivery note, consignment note, etc.). In this way, several solutions can be used on their own.
Make sure the interface is ergonomic
It is frustrating not to be able to use a computer tool properly… Thus, the criterion of ergonomics is essential for a smooth and fast navigation. In concrete terms, an ergonomic interface enables users to easily make changes to scheduled routes. In addition, the use of ergonomic software provides a true satisfaction. In short, this requirement should not be overlooked when choosing a solution.
Check the technical details
Here are two key questions to ask yourself before choosing a route optimization tool:
Is the software on promise, i.e. hosted on a local server, or in SaaS mode, i.e. hosted in the cloud?
Does the software have an API and can it be connected with other applications?
The SaaS software with multi-node and adaptive hosting has advantages: availability and speed of calculation. In addition, the availability of a REST API ensures that the route optimization software can be upgraded and integrated with other solutions (ERP, CRM, etc.).
Optimise your routes today
Free 7-day trial | No credit card required