How route optimisation helps you achieve your business objectives
Discover in this article different methods to optimise your delivery or field service operation routes that can be adapted according to your strategy.
Published on 13 May 2022 • Reading time: 8 min read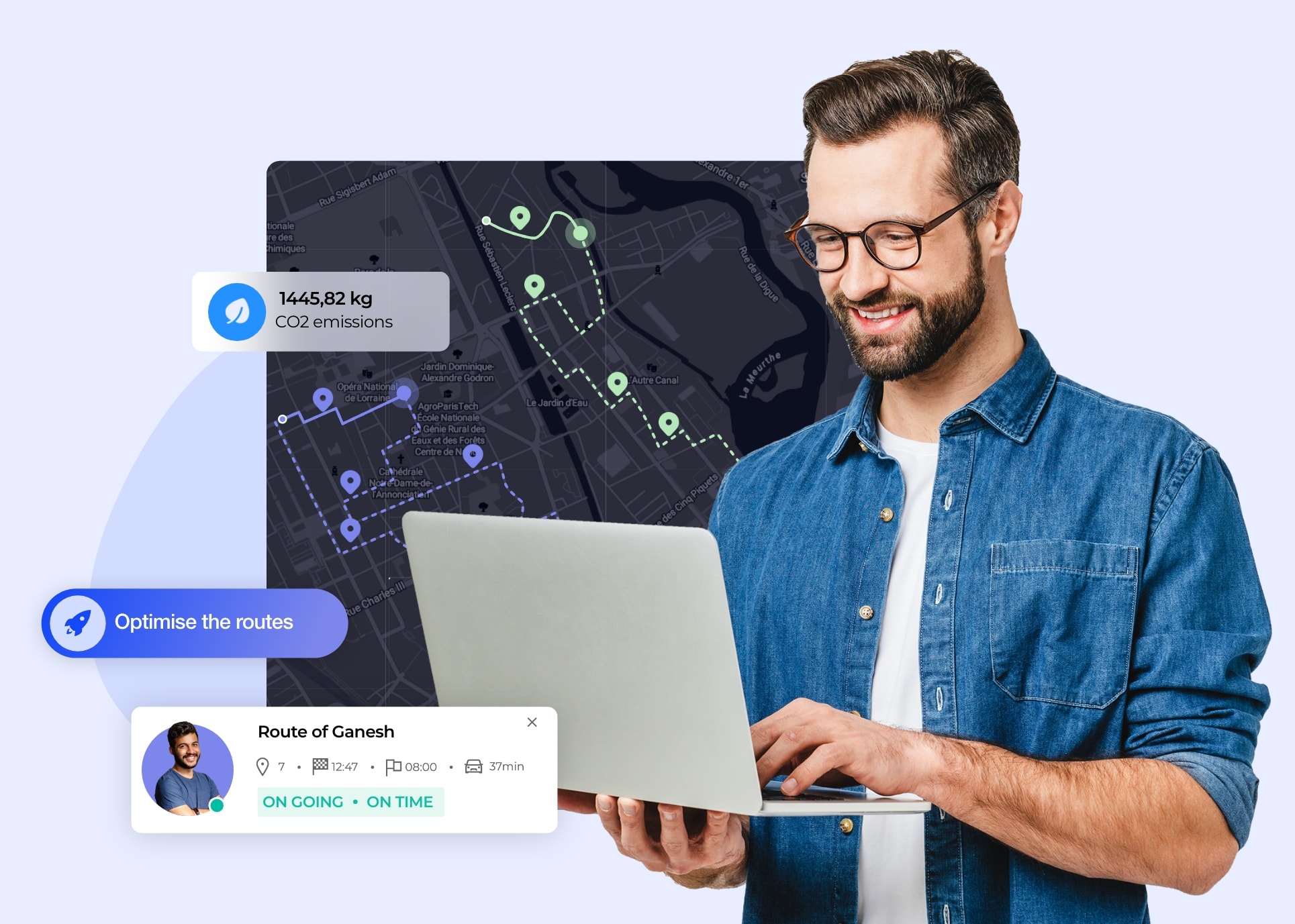 An increasing number of executives and logistics managers are adopting dedicated software to optimise their delivery or field service operation routes, impressed by the significant benefits of these tools. These IT solutions are very efficient in determining the best possible routes according to business constraints and available resources.
Even more interesting: this software helps you to achieve your strategic objectives faster, whether they are economic, commercial or environmental.
As Mendès France, former French President of the Council of Ministers, said in a well-known speech, "we cannot do everything at the same time. To govern is to choose. As Mendès France, former French President of the Council of Ministers, said in a well-known speech, "we cannot do everything at the same time. To govern is to choose. […] Choosing does not necessarily mean eliminating this or that, but reducing this and sometimes increasing that. In other words, setting priorities".
This is exactly how route management software works! In this article, discover different methods of route optimisation, to be adapted depending on your strategy.
Increase the number of deliveries or field service operations by scheduling your routes over several days
The issue
In order to keep your customers happy and to avoid finding a closed door, you must respect their requirements in terms of deadlines and time slots.
Depending on the business and the people concerned, some of the tasks may be known in advance. Another part is often scheduled the day before the route. In some situations, you may have to add emergency operations to the routes already scheduled on the same day.
But while customer expectations are constantly increasing, the same cannot be said for the human and material resources at your disposal! In order to maintain the profitability of the company, but also to increase the turnover, you must find solutions to allocate the drivers and vehicles involved as smartly as possible.

2 solutions to maximise the number of daily deliveries or field service operations
The more options there are for the day, time slot or field worker concerned, the greater the optimisation benefits of the software. Therefore, you should keep your customer promise as flexible as possible.
For example, if you schedule your appointments on incoming calls, avoid the immediate assignment of a task or delivery to a field worker. Do not tell the customer that "Damien will come next Tuesday at 10 am". The right approach is to say after this first optimisation step that "the technician will come next Wednesday between 8 and 10 am, as we are in the neighbourhood. You will receive a text message the day before the visit to tell you the precise time and the name of the technician".
Another usual situation is that you have to complete your deliveries or field service operations before a deadline set either by contract or by the customer. In this case, the best method is to put all the tasks to be carried out in a kind of virtual "basket". There are different ways of selecting the tasks, to suit every working method.
In each case, the software regularly performs a geographic and time analysis to determine the best time slot for each appointment. Thanks to route optimisation, you can save time on routes and therefore maximise the number of deliveries or tasks completed daily.
The results
Depending on the customer, the savings range from 1 to 3 extra tasks per day and per delivery person.
Save up to 35% on your operational costs by optimising the use of vehicles
The issue
Every week, the news brings its share of additional constraints for fleet managers:
Increase in fuel costs.
Pressures in the new and second-hand car markets.
Difficulties in sourcing spare parts, etc.
For companies, it is therefore becoming urgent to make the most of every mile driven, to save money of course, but also to extend the life of vehicles already in service!
Effective strategies for making savings on vehicles and fuel
The level of benefits achieved by using route management software depends on both the business constraints and the criteria set by the operators. The stricter the constraints, the lower the benefits of optimisation. It is therefore important to define your real requirements before the actual scheduling step.
The following are some of the effective methods for optimising the use of the fleet:
Indicate in the software the type of licence held or the skills of each employee, rather than assigning a field worker directly to a vehicle or a task.
Also enter the running costs of each vehicle in euros per kilometre.
Agree with the customer on a date or time slot, rather than making an appointment directly.
In any case, include in AntsRoute the maintenance periods of each vehicle, to be sure not to forget any maintenance operation.
Then comes the actual route planning step, to build the routes and schedules for each driver. Based on the data you have entered, " cross-checked " with navigation solutions such as Waze or Google Maps, our optimisation software selects the best possible route from thousands of options, i.e.:
The shortest or fastest route.
The least resource-intensive (fuel, insurance, maintenance costs, etc.).
While respecting your business constraints.
The results
The savings for our new customers are on average 20% of the fleet usage costs.
Reduce the number of vehicles used by maximising their load
The issue
According to a study conducted by the International Road Transport Union (IRU) a few years ago, the average consumption of an empty 40-tonne truck is 29.3 litres per 100 km, while the same truck with a full load consumes "only" 10 litres more over the same distance. However, the price of diesel at the pump has risen by more than 40% in 10 years! Whenever possible, it is therefore important to avoid chartering a truck for 15 pallets on Tuesday, when a departure of 18 pallets is planned for Wednesday in the same direction.
However, the issue of load optimisation is not specific to the transport and freight industry. It also concerns all delivery workers and technicians who have to load goods or spare parts at one or more locations ("pick-up and delivery" mode).
Useful tools for optimising vehicle loading
Our route optimisation software helps to maximise the loading of vehicles, and therefore to reduce the number of chartered vehicles, by using several levers.
If you are managing goods transport routes, you may appreciate our vehicle capacity management module. It allows you to set the capacity of each vehicle in terms of weight, pallets, volume or number of units, for example for similar sized packages. To avoid unnecessary data entry, you can also integrate AntsRoute with other fleet management tools such as Fleeti.
Our software also has a very complete module for scheduling pick-up and delivery operations.
The results
Important gains are achievable, if there is a certain amount of leeway in terms of delivery or field service operation deadlines. As Médéric Gasse, co-founder of Delivening, highlights, "the efficiency of AntsRoute in terms of dispatch is absolutely outstanding".
Limit your carbon footprint by choosing eco-friendly delivery methods
The issue
The transport industry alone is responsible for 28% of CO2 emissions in Europe. More and more companies with a commitment or mission are therefore looking for workable solutions to reduce their carbon footprint, such as reducing trips, encouraging teleworking, or purchasing low emission vehicles.
At the same time, consumers are also becoming increasingly aware of the issue of green delivery. Almost three quarters of French people told OpinionWay that they would be willing to agree to a longer delivery time if the delivery was made using environmentally friendly transport (scooter, electric vehicle, natural gas truck, etc.).
The parameters to be activated for more eco-friendly routes
The first step is of course to optimise the routes to reduce the number of kilometres travelled between two deliveries or two tasks. But AntsRoute also offers additional solutions to make your routes even more sustainable.
For instance, our route planning software can prioritise low-emission vehicles. To maximise the use of low-emission vehicles in the most efficient way, AntsRoute can also plan your delivery or field service operation routes taking into account their specific constraints. In particular, you can :
Set the battery life of electric vehicles and the time needed to recharge them.
Define state of charge thresholds (minimum and maximum).
Schedule routes taking into account the geographical location of charging stations, etc.
The results
Our IT system is a real response to environmental issues, and has been awarded by l'Automobile & l'Entreprise in the Sustainable Development category.
Do you want to translate your own results into statistics? AntsRoute calculates the carbon footprint of your routes, and therefore the tons of CO2 saved!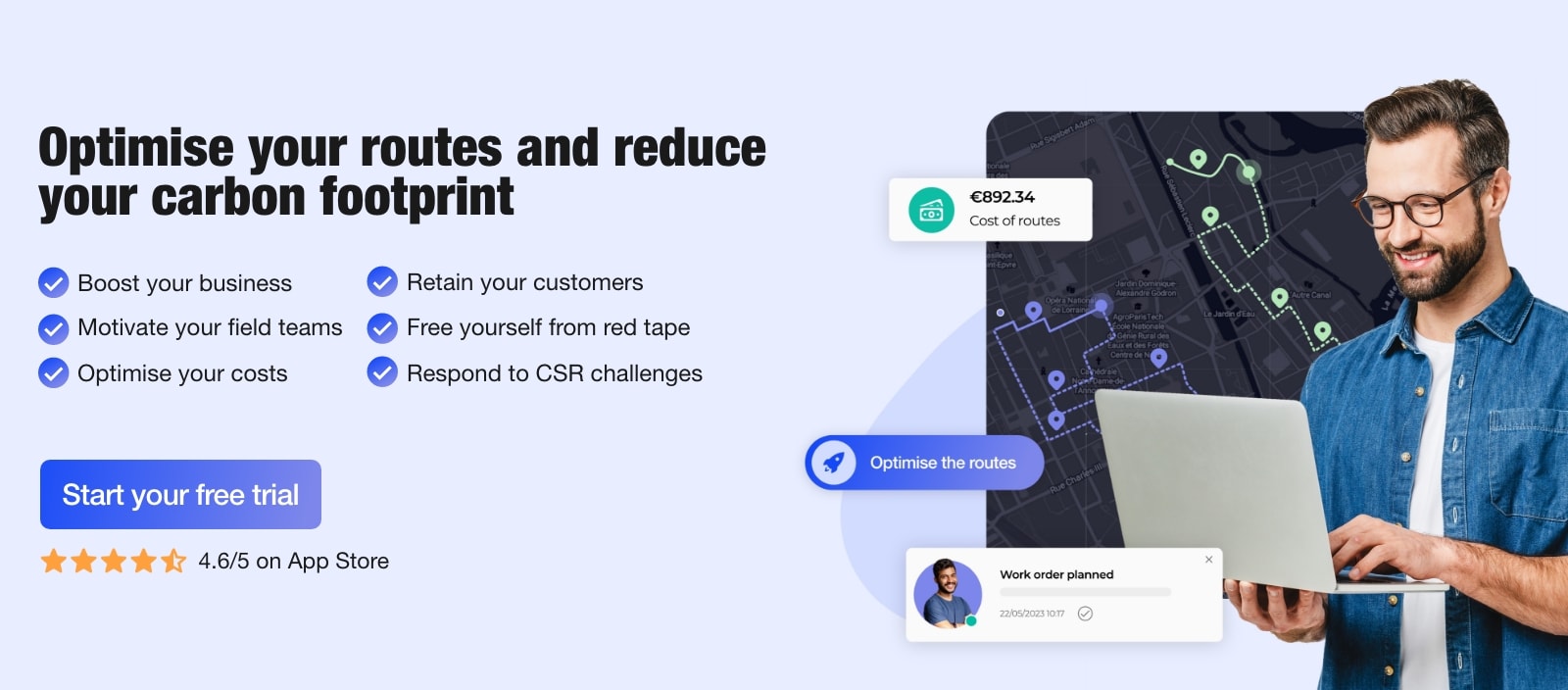 Build customer loyalty by improving service quality
The issue
Facing more and more economic constraints, delivery or field service companies are tempted to prioritise profits instead of the quality of the services provided. However, this choice is very costly, since insufficient communication or a missed appointment can result in the loss of the client. According to a survey carried out by Ipsos-Octopia, 85% of online shoppers say that a poor delivery experience would prevent them from ordering from that online retailer again. With the increasing automation of services, the human factor is still critical for customer loyalty!
AntsRoute features to offer a better quality of service to your customers
Thanks to our route planning solution, you can optimise your time by delegating the building of routes to algorithms, which is often a tedious and time-consuming task. This time saving, essential for your organisation, can be counted in hours or in half a day for some professions.
Route optimisation software also makes it easier to manage the inevitable unexpected events. It guides you each time towards the best decision to make, while giving you the control:
Driver or technician nearby to handle an emergency.
New real-time route suggestion in case of crash or traffic congestion.
Automatic alerts by e-mail or text message to remind the customer of an appointment or to inform him when the driver is late, etc.
In addition, our solution integrates a route tracking module, also very useful for improving the quality of the customer experience:
Geolocation of the driver in real time, thanks to a tracking link sent by email or text message.
Confirmation or rescheduling of an appointment by the customer himself.
Sending a link to a feedback survey after the visit, etc.
The results
Thanks to the many decision-making support tools included in AntsRoute, you can once again save time and focus on customer support and the quality of your rounds. By automating the scheduling of tasks, our client Majordhome Services in Marseille, France has reduced the number of hours of planning per day from 10 to just 1… and the results are much better!
Do you want to ask our team questions about the most suitable methods for optimising your delivery or field service operation routes? Here are our contact details.
Optimise your routes today
Free 7-day trial | No credit card required