Guarantee your profit margins and grow your business with AntsRoute
Are you managing mobile workers who make last-mile deliveries or field operations on site ? Are you looking to save between 15 and 25% on the mileage, the driving time and, more generally, on your costs? Do you also want to increase your turnover? Then AntsRoute is the software you need!
7-day free trial
No commitment
Easy setup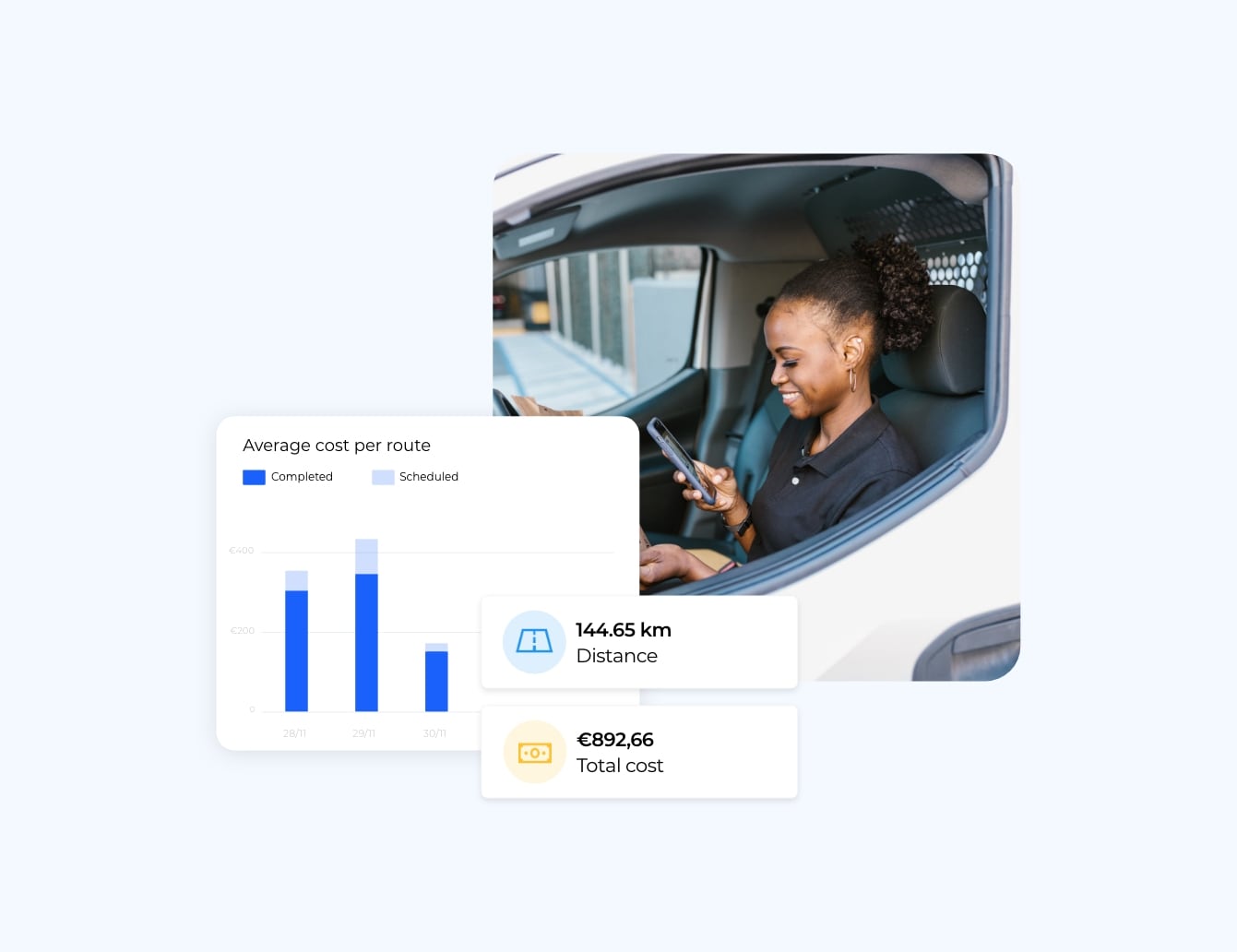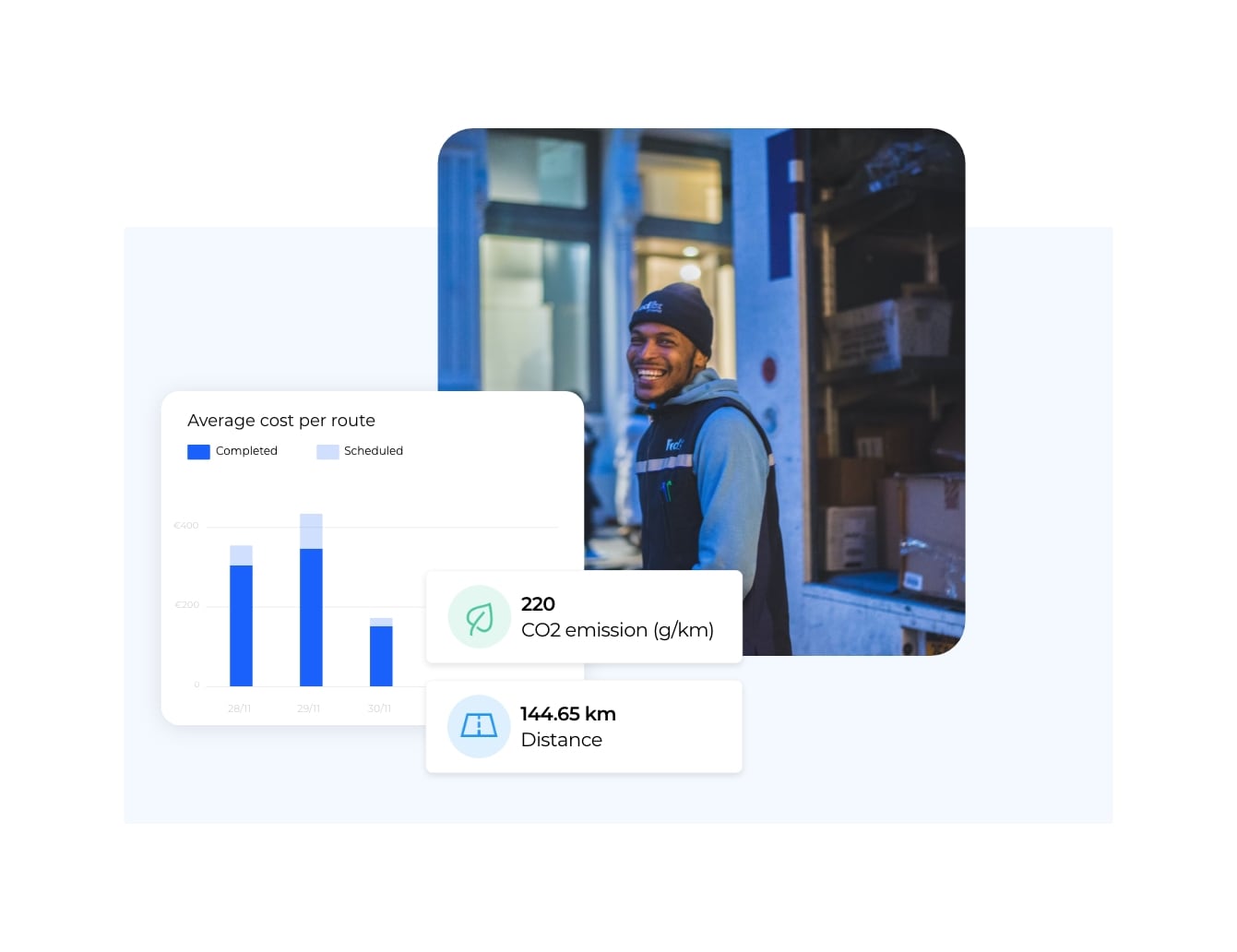 Get accurate information about your operational costs
To make the right choices for your business, you must have an accurate understanding of the costs of your organisation. But do you really know the operational costs associated with your last mile deliveries or on-site service operations? If one of your customers lives far from your catchment area, isn't it better to outsource the work? Thanks to AntsRoute software, you have precise indicators on your operating costs. In addition, you can track the evolution of costs over time using charts.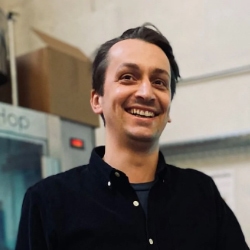 Sébastien Specht
Co-founder of La Boissonnerie de Paris
The algorithm finds solutions that I would not necessarily have thought about, and that take into account the constraints set by the customers. The human brain tends to think that it will find the best solution, but this is rarely the case. The algorithm is much more right than the human!
Get rid of unnecessary expenses
For your home delivery or field service business, you need to cut down on unnecessary expenses, especially wasted mileage. For example, you may be looking to:
Optimise miles and driving times.
Use the right resources for each operation.
Limit "no-shows" (or customer absences).
To do this, you need to schedule optimised and consistent routes, while ensuring customer availability. Thanks to AntsRoute, you can perform these time-consuming tasks in just a few clicks. First, your routes are optimised by taking into account your business constraints, the skills and availability of your staff and the expectations of your customers. The savings on kilometres travelled are estimated between 15 and 25%. In addition, the resources used can be minimised. Furthermore, your customers are kept up to date about your drivers' arrival. You avoid your workers having to face closed doors and limit the number of unnecessary trips associated.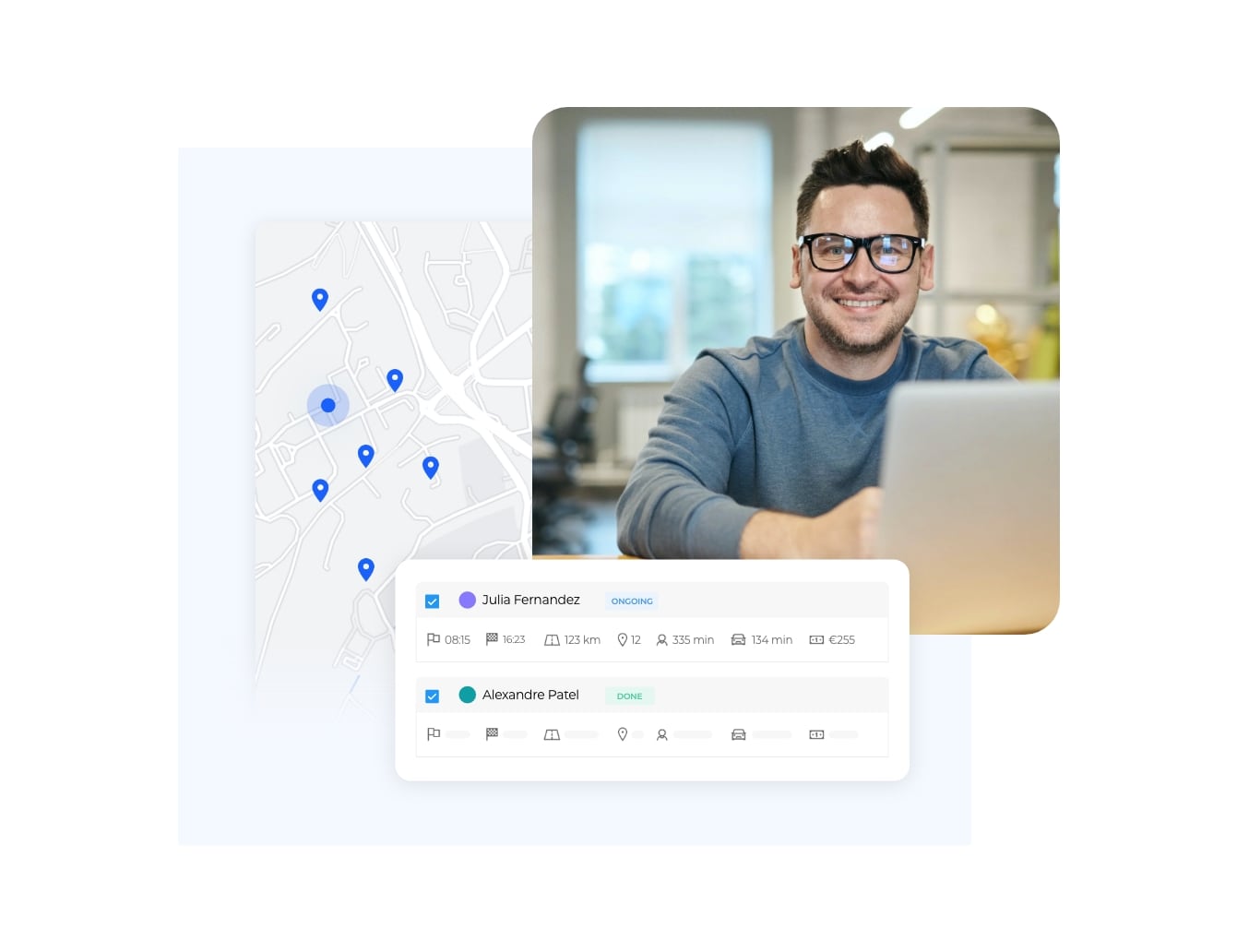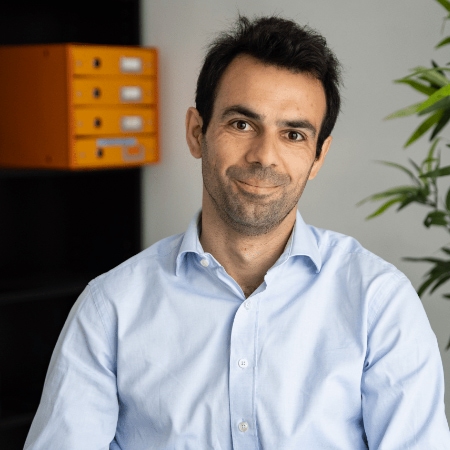 Médéric Gasse
Co-founder of the startup Delivening
Obviously, we use the feature of AntsRoute that enables us to send text messages to customers to let them know the ETA. To limit the failed deliveries, we asked for the possibility for customers to reschedule the appointment directly via AntsRoute, without human assistance.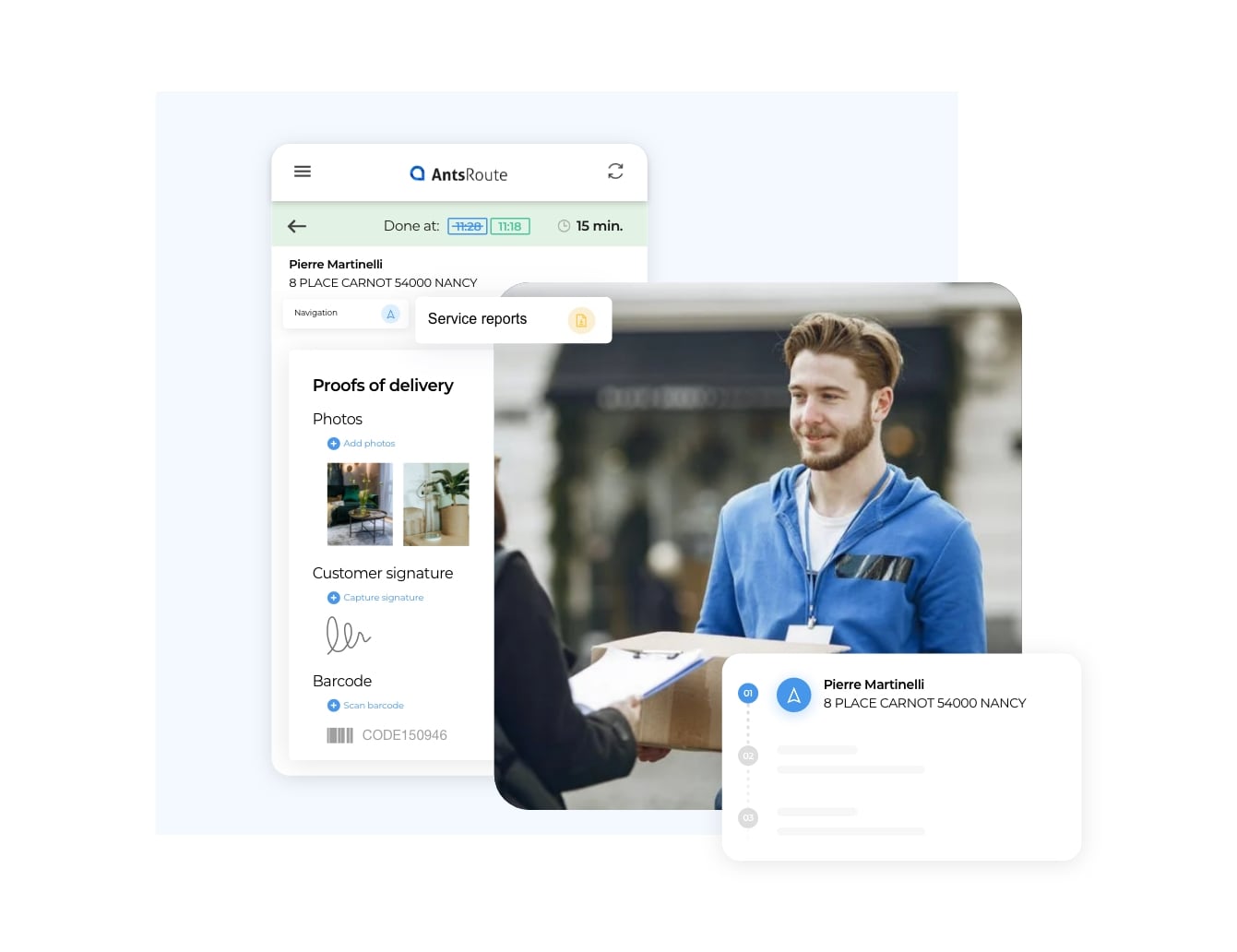 Boost your productivity by automating your processes
If you are looking to improve your operating margins, you need to focus on higher value-added tasks. Don't waste time printing paper roadmaps! Your drivers or technicians can access their routes directly from the AntsRoute mobile application.
Save time when drafting service reports or delivery notes. You can generate the documents and send them to customers automatically from the route optimisation platform. AntsRoute can also be connected to other business software: warehouse management system, invoicing software, online sales platform, etc.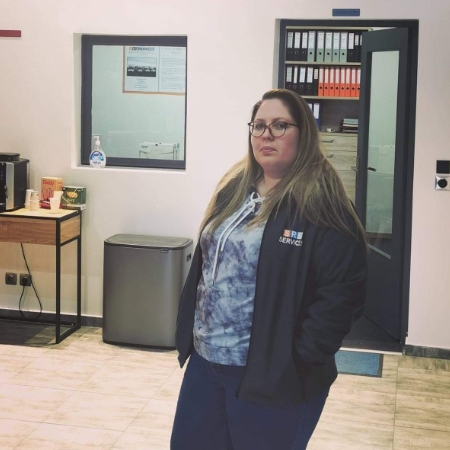 Sophie Rebai
Administrative Manager at SRS Services
The use of AntsRoute saves the delivery drivers a lot of time, because everything is available in the same application: phone number, customer address and GPS function. Our drivers really appreciate this all-in-one application!
Interconnect your order flows to increase your turnover
By connecting your different order flows to a single platform, you save time when planning routes, but above all you eliminate repetitive tasks that are very costly for your company. AntsRoute allows you to connect these different flows. For example, if you manage your business with Odoo, you can automate the sending of orders to be delivered to AntsRoute to optimise the routes in a few seconds. This is also possible with the e-commerce platforms Prestashop and WooCommerce or with tools such as Woop and dedicated sites with an API.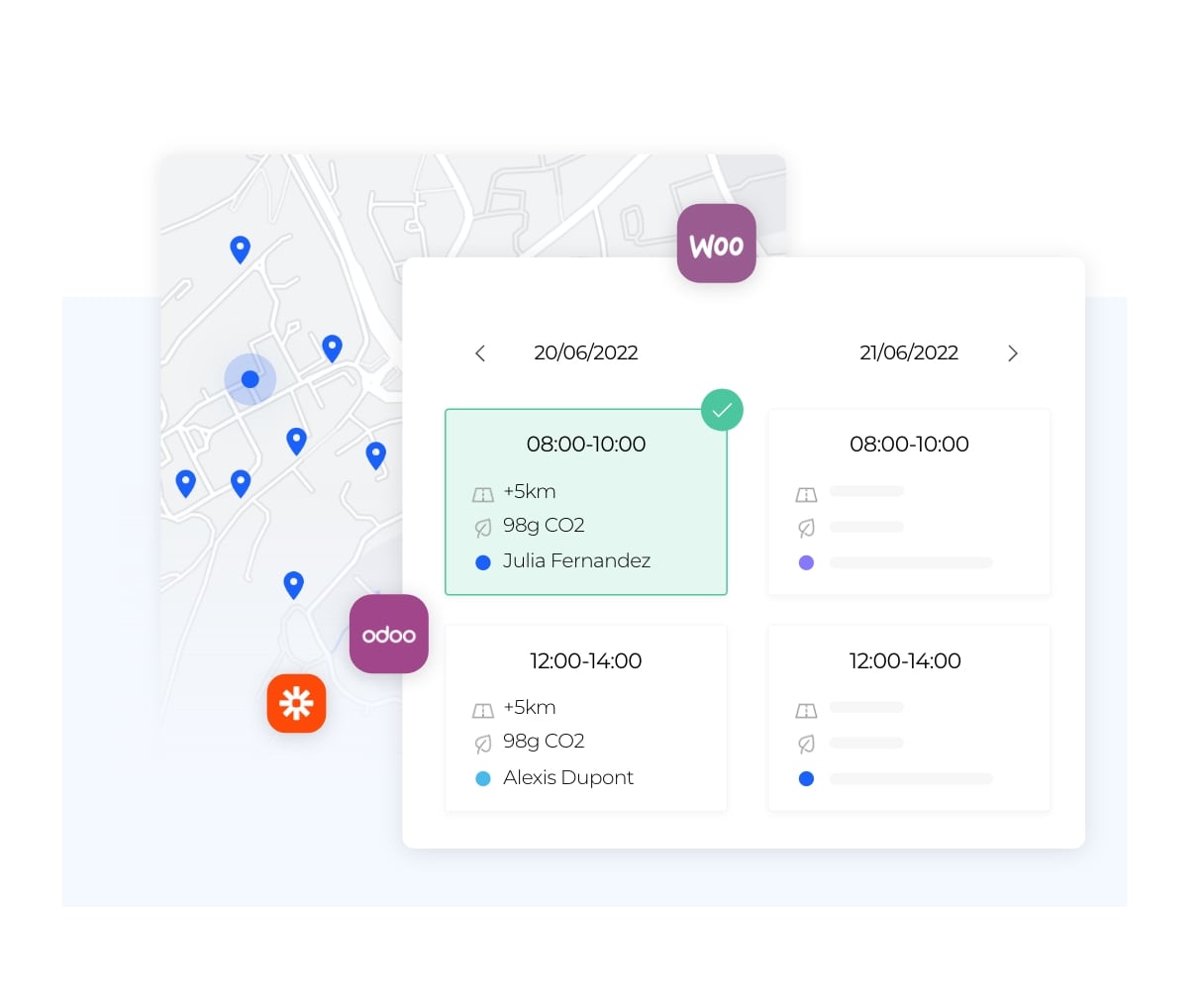 Get started with AntsRoute
Increase your productivity and outperform your competitors with the best possible last-mile management and 5-star customer experience.