Delivery software in London and other major cities
Intuitive and easy to use, the AntsRoute software meets the needs of professionals who offer home or office deliveries:
Couriers and carriers
Restaurants, caterers and home delivery services
Food shops: butchers, bakers, greengrocers, etc.
Market gardeners, farmers, fresh produce shops
Building materials, DIY and decoration
Furniture and household appliances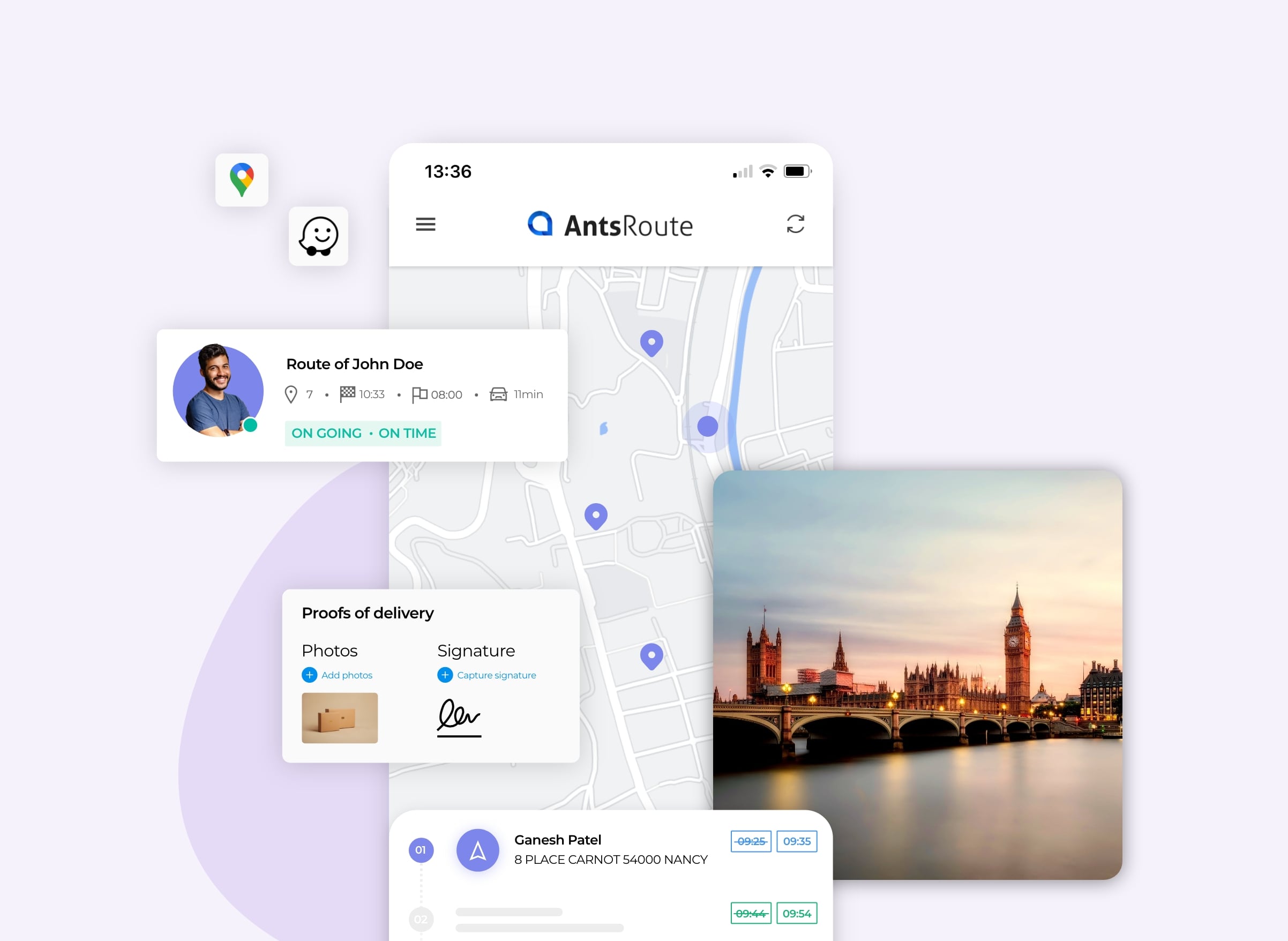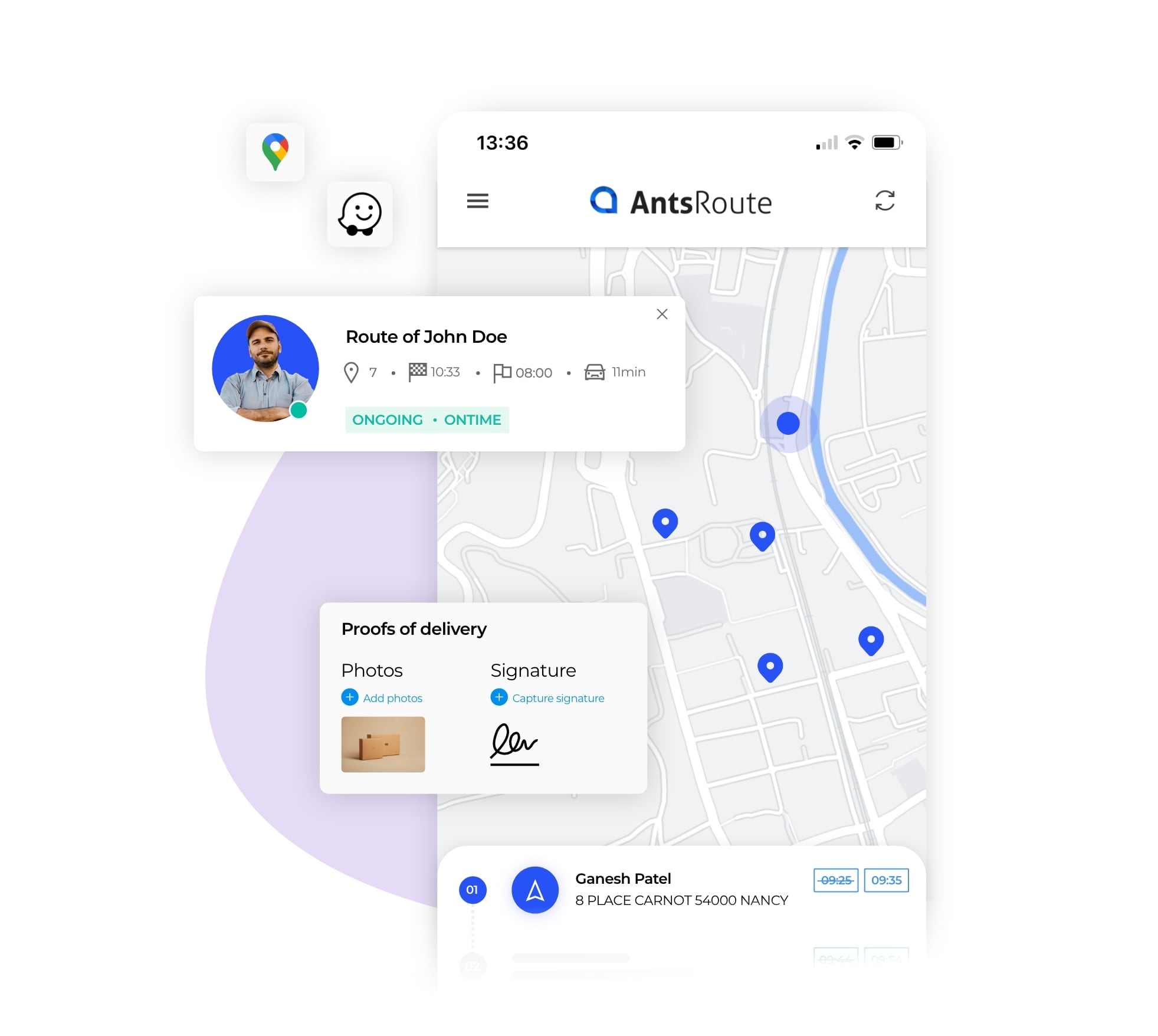 Anticipate traffic traps in London and elsewhere
On-board navigation system
AntsRoute is integrated with your favourite navigation application, Waze or Google Maps. An ideal two-in-one solution for managing the unexpected events during your routes:
Traffic bans
Roadworks
Traffic accidents
Demonstrations
Last-minute deliveries, etc.
AntsRoute also relies on the history provided by Waze and Google Maps to build your routes while avoiding traffic jams as much as possible!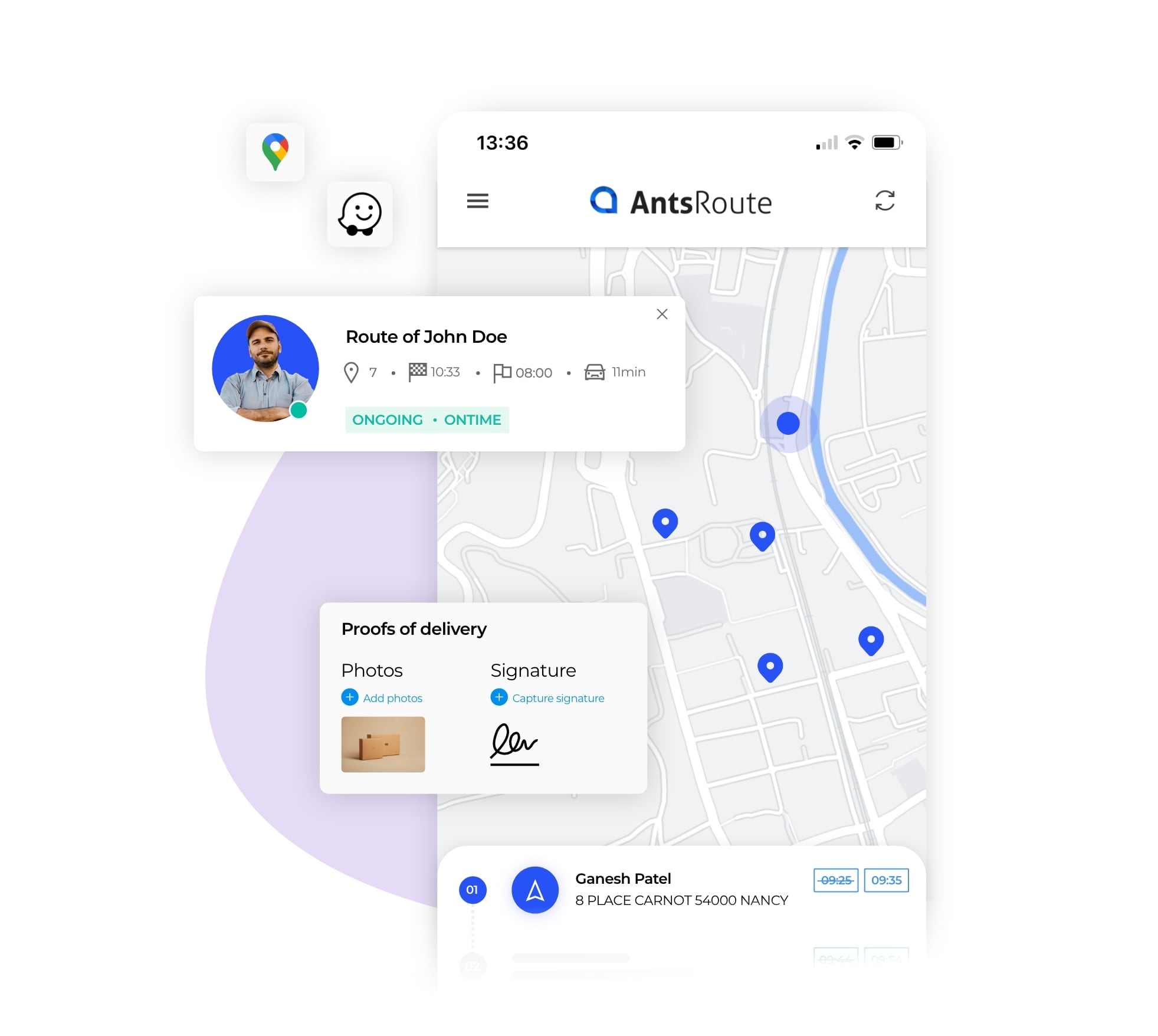 Integration of Low-Emission Zones
With our software, give priority to your green vehicles in the Low-Emission Zones of the cities concerned:
London
Birmingham
Bristol
Differentiated management of eco-friendly and thermal vehicles
All routes assigned to electric or hybrid vehicles are calculated taking into account their specific constraints:
Battery life
Location of chargers
Charging time.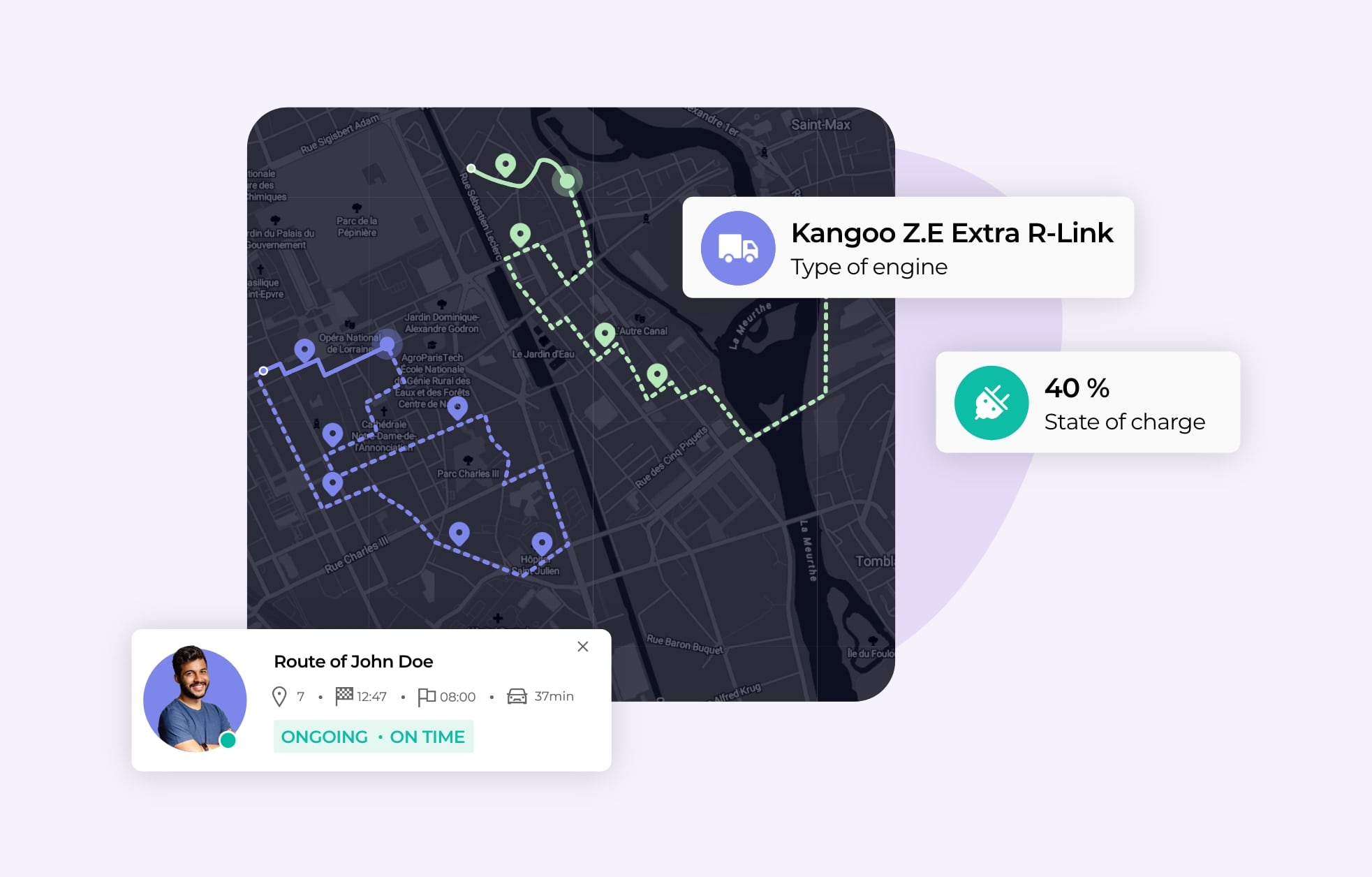 By using our solution, you can increase the number of daily deliveries while reducing the time lost in traffic jams!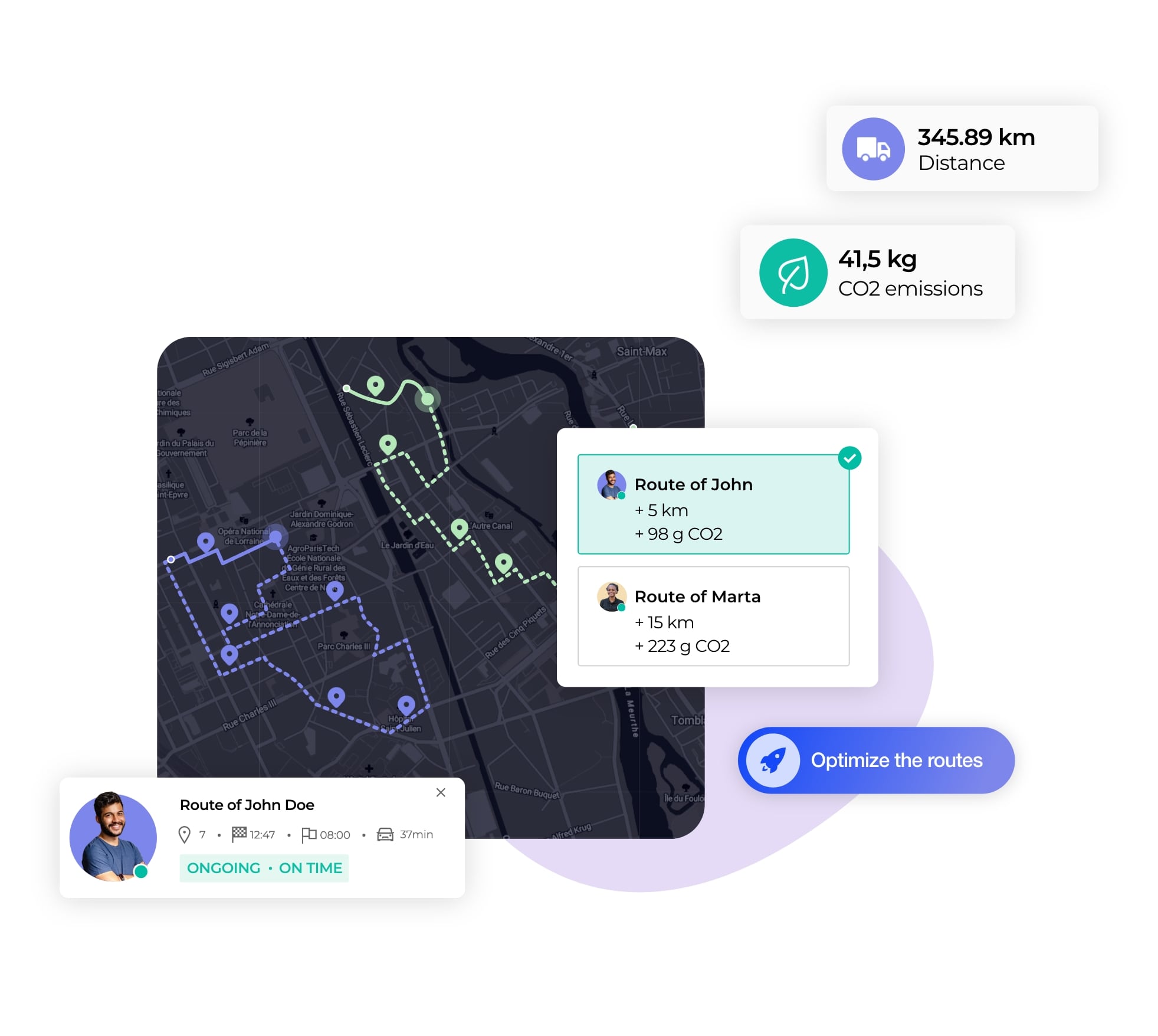 Improve and track your performance
Fast route optimization
Our delivery software optimizes the routes of your entire team in a few seconds, taking into account multiple criteria:
Customer requests and availabilities
Vehicle loading capacity
Business constraints
Installation or commissioning time
Possible sectorisation of delivery drivers, etc.
The route description of each delivery driver is then sent to their smartphone or tablet for real-time tracking of the deliveries.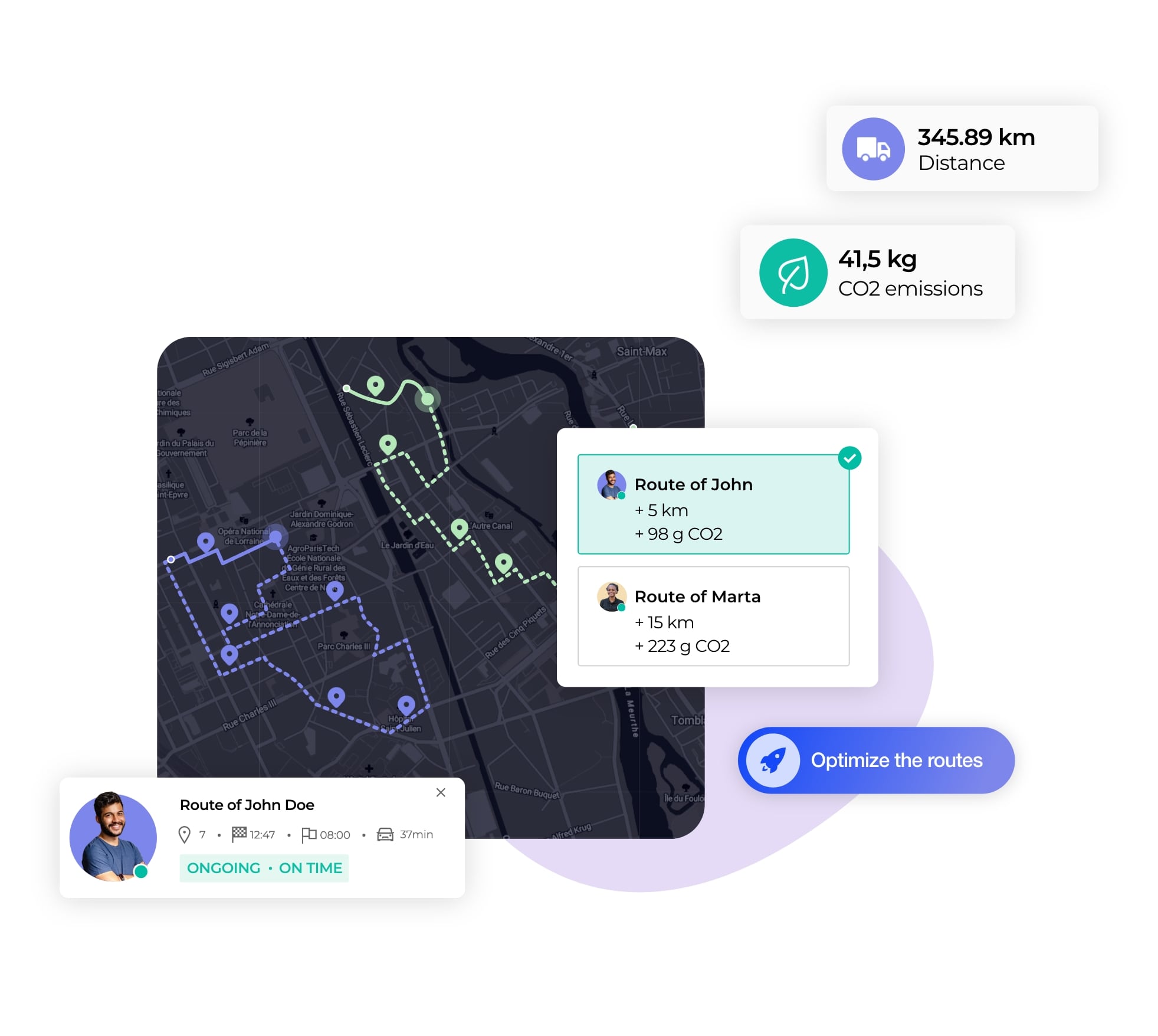 Loading maximisation
The optimisation of the loading is a powerful way of reducing the number of miles travelled. In our software, you can set the capacity of each vehicle, refrigerated or standard, by:
Weight
Pallets
Volume
Number of units to be carried.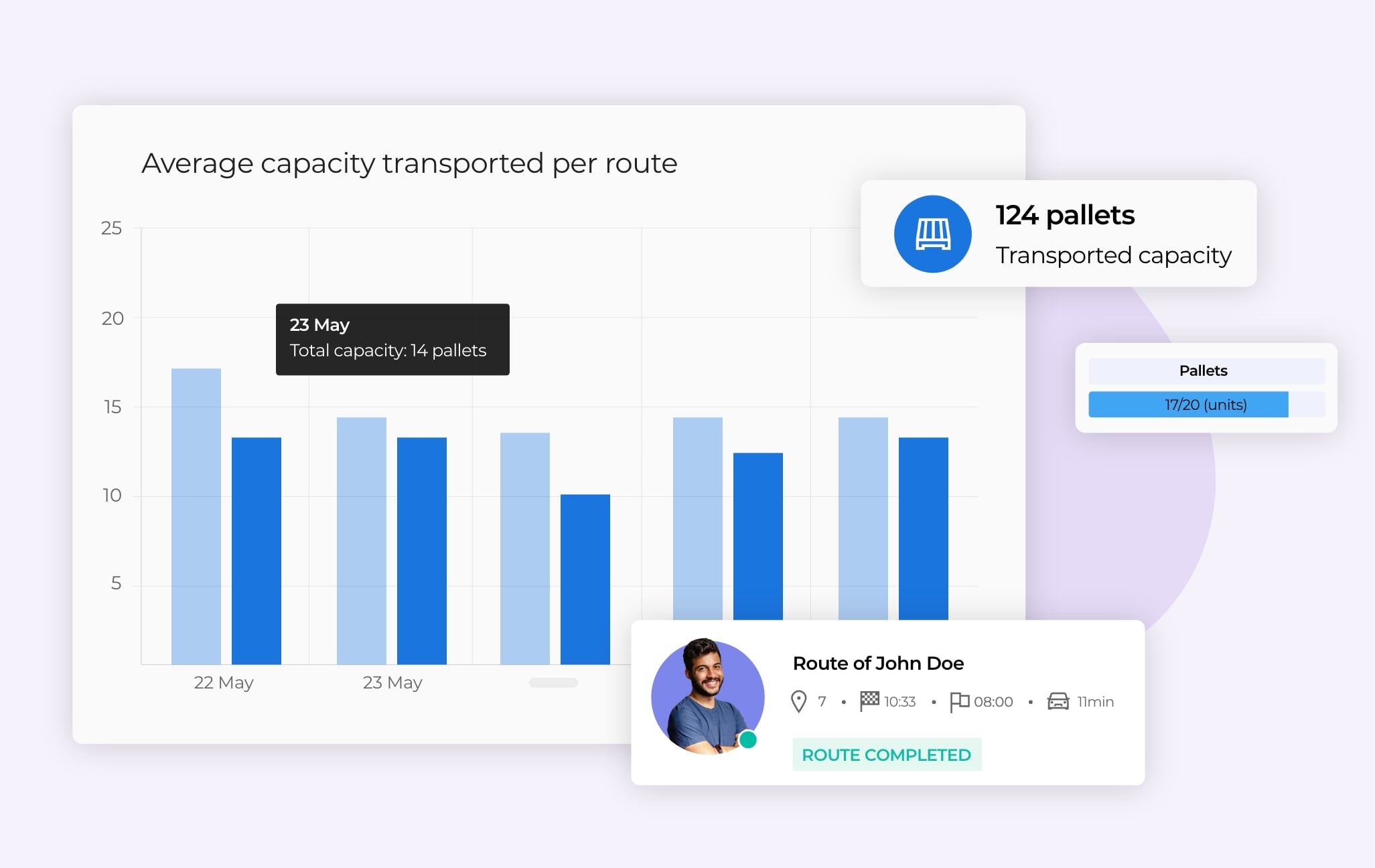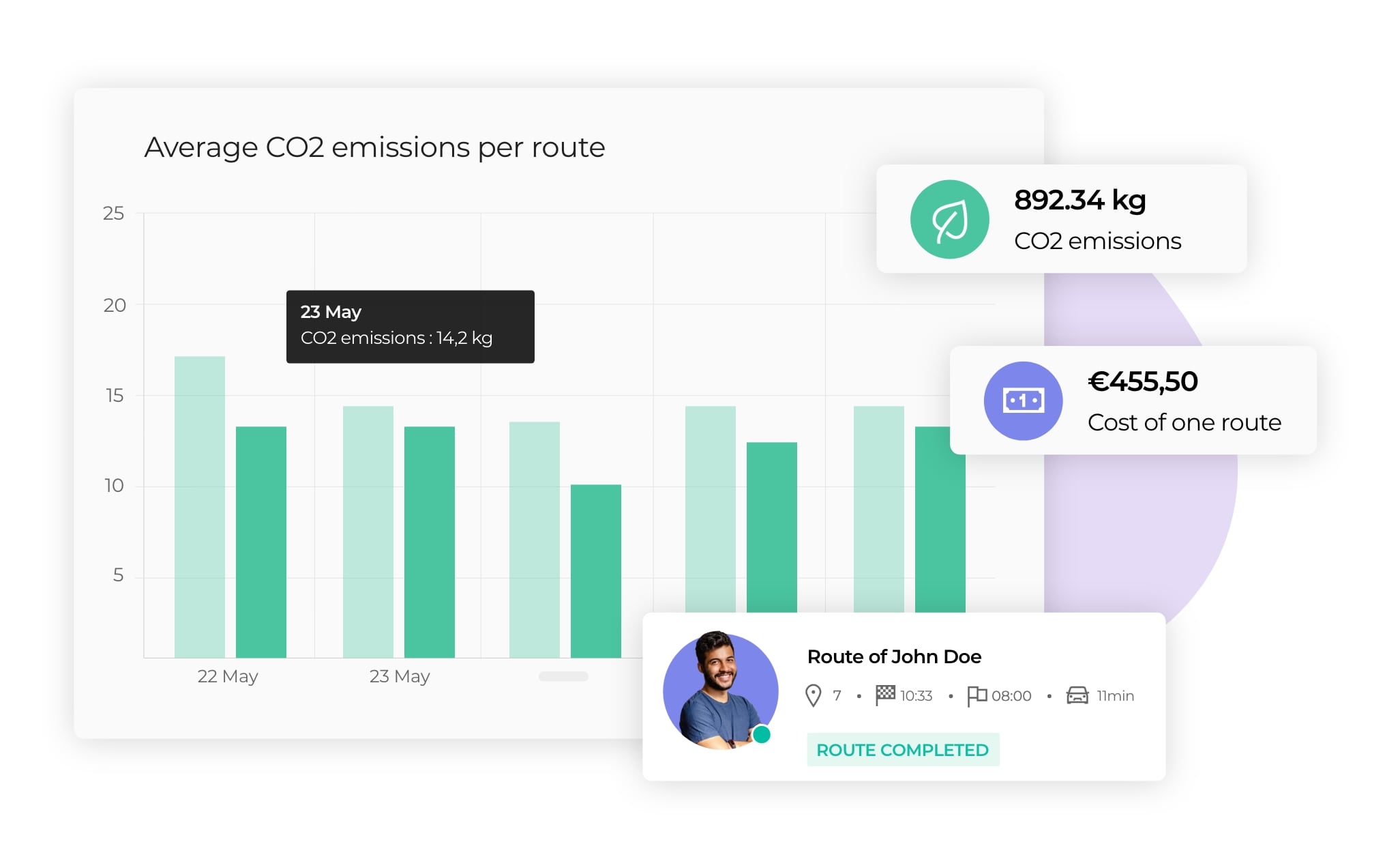 Analysis and monitoring of key figures (KPIs)
In our performance monitoring module, you can quickly find all the data you need to monitor and improve your results:
Data about planned, completed and cancelled routes
Statistics per driver
Evolution of fleet costs
CO2 emissions to calculate your carbon footprint, etc.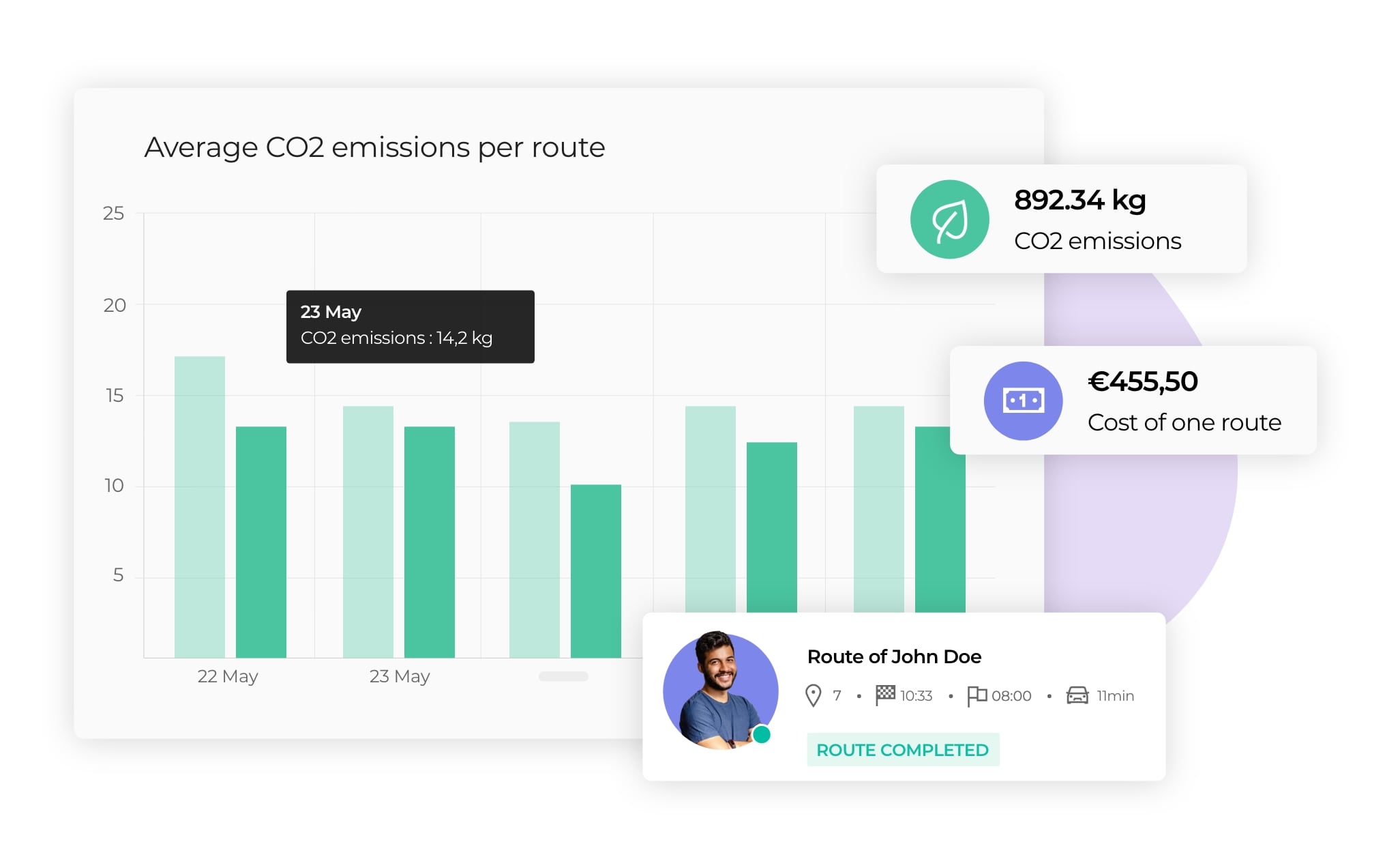 Easy appointment booking
Whatever your method of booking appointments, AntsRoute helps your customers to find the best time slots. Our software manages the planning of delivery appointments:
Between two dates
On incoming call
Imported from another application
From an Excel or CSV file.
We also offer white label sites to allow your customers to plan their deliveries online.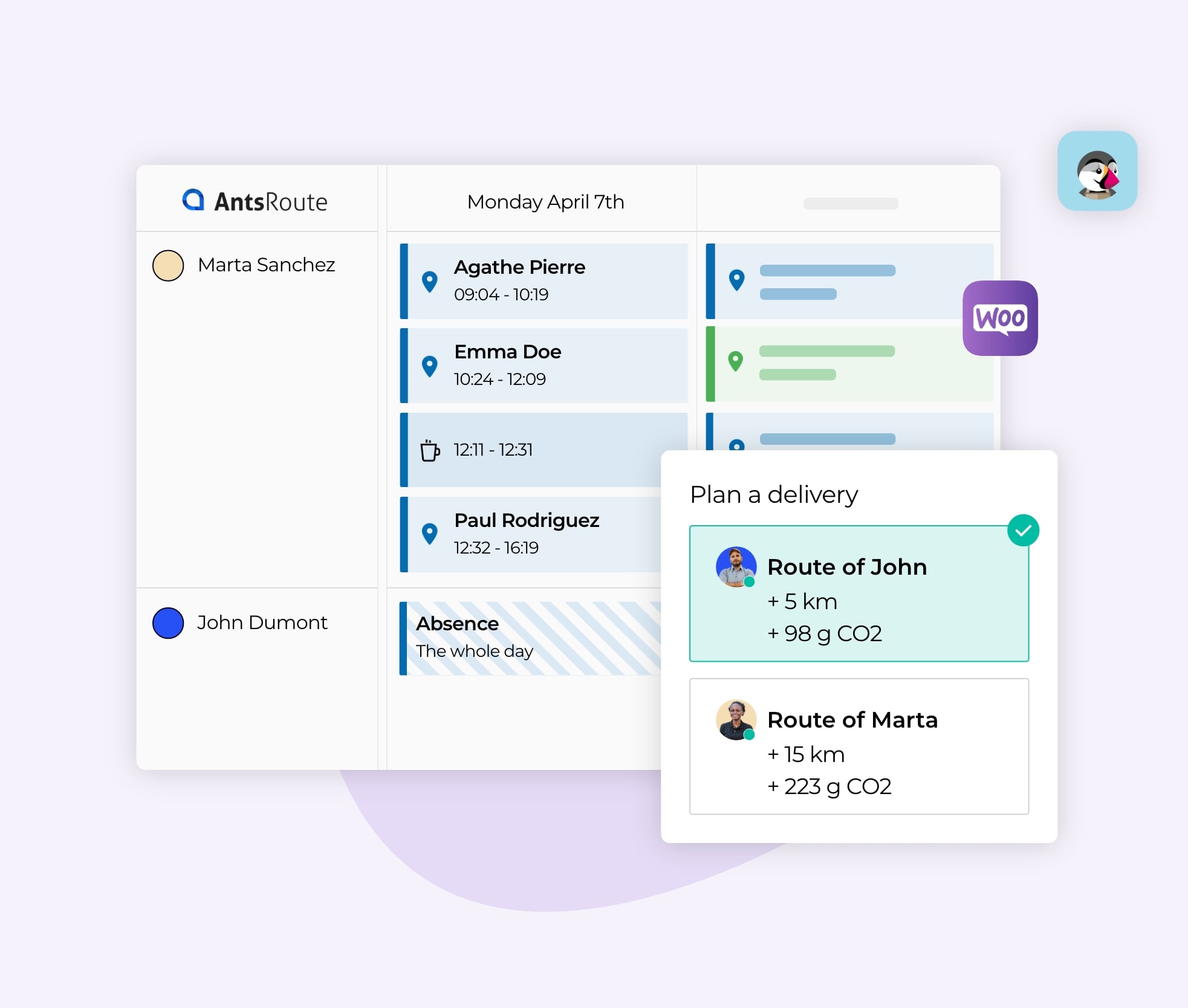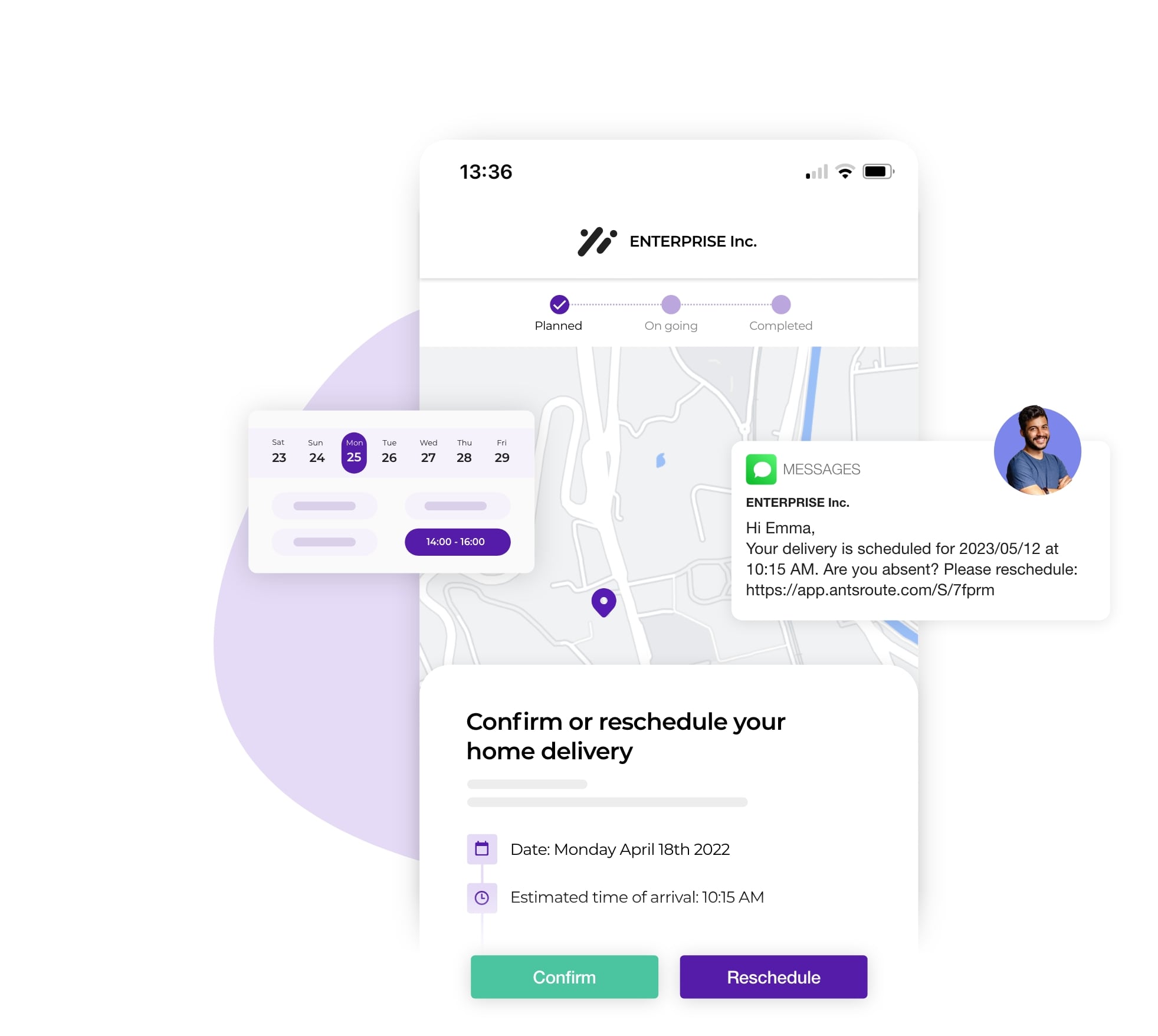 Efficient customer relationship management
Make the daily workloads of your teams easier by automating non-value-added tasks and improve your customers' loyalty by offering them a flawless service!
E-mail or SMS reminder
Notifications when the driver is coming
Geolocation of the delivery drivers in real-time
Live tracking of the delivery by the customer
Electronic signature
Creation and sending of delivery notes
Service quality rating form, etc.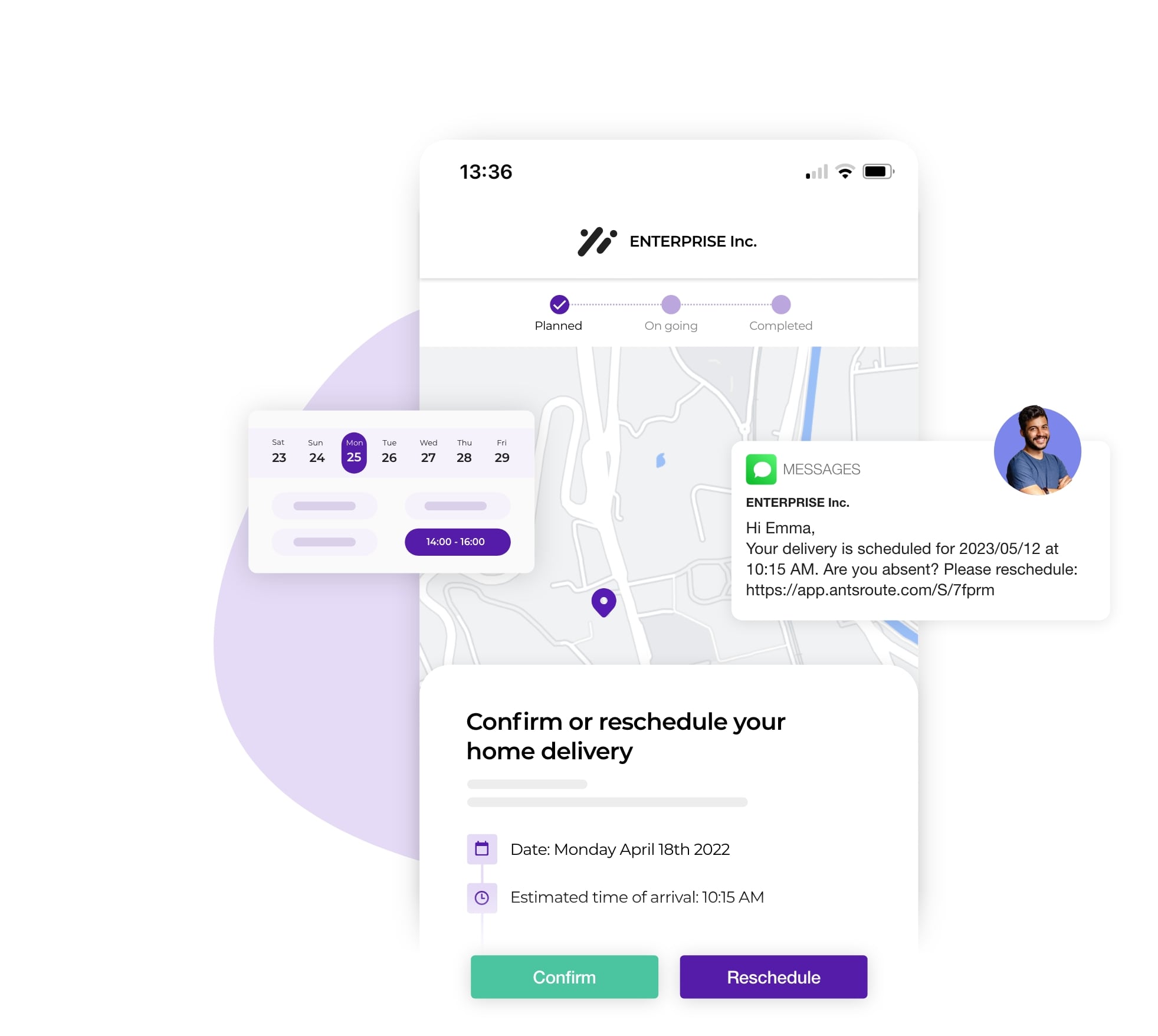 Book your free demo of AntsRoute and get answers to your questions.
Frequently asked questions
Simplify the management of your deliveries in London
Free 7-day trial | No credit card required