Choose the right offer for your needs
All plans offer monthly subscriptions with no commitment. You can upgrade, downgrade or cancel at any time. Start for free. By choosing the annual subscription, you can save money. For more information, please contact us.
Get the support from our team
The customer support teams are available to answer all your questions and help you get the most from AntsRoute software.
Live chat
You can use our live chat, which is available to all users from Monday to Friday, during office hours.
Help Center
Thanks to our online documentation, you can quickly get answers to your questions about the features and integrations.
The services included in our offers
The Lite, Essential, Pro and Enterprise plans include all the services below.
Reliable
Your database and associated processing are securely hosted.
All-in-one
One single interface to organise your routes, support your drivers and improve your customer relations.
Multilingual
Our platform is available in English, French, Spanish and German and will soon be available in Italian.
Listening
Our support team is available to help you (live chat, phone or email).
Do you need help?
You can't find the right offer for your needs? Don't worry… Our sales team will help you identify the best plan for your business.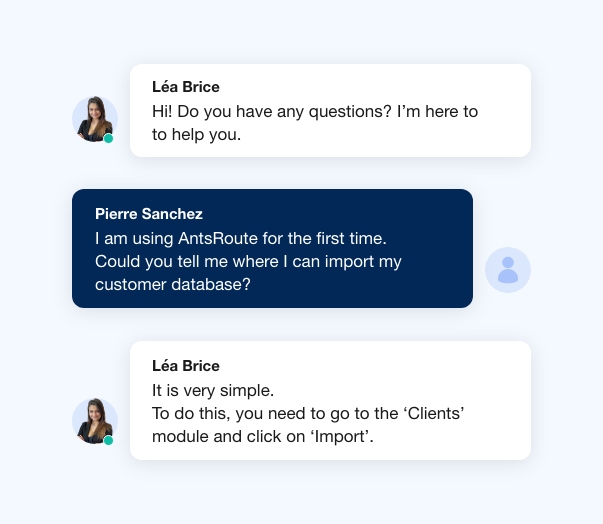 Lite

24 EUR
50% off for 1 month

12 EUR
/month /vehicle Excl. VAT

Essential

48 EUR
50% off for 1 month

24 EUR
/month /vehicle Excl. VAT

Pro

68 EUR
50% off for 1 month

34 EUR
/month /vehicle Excl. VAT

Enterprise

88 EUR
50% off for 1 month

44 EUR
/month /vehicle Excl. VAT

Scheduling of work orders

Import of files with work orders

Import of files with routes

Scheduling of work orders one by one

Scheduling of work orders over several days

Management of recurring work operations

24/7 online appointment booking site

Interface designed for shops

Attachments

Custom fields

Optimisation of routes

Optimisation of multi-driver routes

Optimisation of routes with sectorisation

Optimisation with several returns to the warehouse

Pickup & Delivery

Modification of optimised routes

Display of routes on map

Display of daily route calendar

Display of weekly route calendar

Export of PDF routes

Export of XLS routes

Synchronisation of calendars

Management of the work order status

Constraints taken into account

Traffic

Availabilities of customers

Working hours and breaks of field workers

Starting and ending locations of field workers

Absences of field workers

Skills of field workers

Duration of each work order

Loading capacities of vehicles

Tracking of ongoing routes

Real time geolocation of field workers

Status of work orders

Delay time calculation

Scheduling of last minute work orders

Proof of delivery

Automated sending of work reports

Android & iOS mobile application

List of tasks to complete

Waze or Google Maps navigation

Validation of steps

Proof of delivery feedback

Planning of the upcoming days

Scheduling of orders from the mobile app

Label printing with barcodes

Loading dock management application

Analysis of routes

History of work orders

History of routes

Statistics

Configuration of indicators

SMS & e-mail notifications

Triggered from the web interface

Triggered from the mobile application

Automated when the route starts

Automated when the field worker is on the way

Automated after the completion of work orders

Automated when cancelling work orders

Link to download the work report

Link to live track the field worker

Link to reschedule the work order

Link to rate the quality of services

Administration

Terminology

Unlimited users

Complete management of user roles

Multi-sites

Assistance

Help Center

Assistance (live chat, email, phone)

1 hour of training during the first month

Hosting

Secure and responsive

24/7 supervision

Daily back-up

Compliant with Healthcare Data Hosting

Availability over 99%

Integrations

API Rest

Webhooks

SMS pack

5000 SMS (valid over a rolling 12-month period)

€300 Excl. VAT

€300 Excl. VAT

€300 Excl. VAT

€300 Excl. VAT

Training

4-hour training

€450 Excl. VAT

€450 Excl. VAT

€450 Excl. VAT

€450 Excl. VAT
Find out why AntsRoute is trusted by 300+ businesses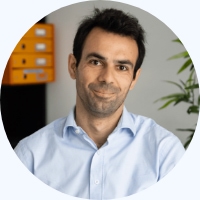 Médéric Gasse
Cofounder of Delivening
Antsway, the company that develops the AntsRoute software, is a strong partner in terms of IT. The core solution is very efficient, and their teams are able to deploy specific development overlays according to our constraints.
Save time and grow your business
Start your free 7-day trial. Create your AntsRoute account 100% online in just 5 minutes. No credit card required. No commitment.