What is Zapier?
Zapier is a web service that connects many applications and makes it possible to automate actions between these different apps. It allows you to automate actions between your AntsRoute account and the different applications you use on a daily basis. By using Zapier, you eliminate repetitive data transfer work without even having to code.
With over 2,000 applications, Zapier is the best tool to save you time in managing your business: Google Sheets, Microsoft Dynamics, Salesforce, Shopify, Xero or Quickbooks.
What are the benefits for AntsRoute users?
By connecting your AntsRoute account to Zapier, you make it easier to import and export data between the different applications you use.
Create new customers in AntsRoute when adding contacts in your favorite CRM ;
Update existing clients in AntsRoute when updating these clients from your Google Sheets spreadsheet ;
Add new orders in AntsRoute when adding new rows to your Google Sheets spreadsheet ;
Add new orders with a due date in the 'Orders bucket' tab of AntsRoute.
1st ZAP: Automate the creation of clients from Google Sheets
If you use Google Sheets to manage your customer database, you can simplify your workflow with this Zap. It allows you to create a new AntsRoute client every time a new row is added to your Google Spreadsheet.
💡 Get more information about this Zap here.
2nd ZAP: Automate the update of customers in AntsRoute from Quickbooks
With Zapier, you can automate the creation – update – of a new customer in AntsRoute when this same contact is added – updated – in the Quickbooks accounting software. This Zap is perfect to eliminate errors and duplicated customers.
💡 Get more information about this Zap here.
3rd ZAP: Automate the order adding in AntsRoute from Google Sheets
By setting up this Zap, you automate the adding of a new order in AntsRoute when you add a new row in your Google Sheets spreadsheet.
How to connect AntsRoute to Zapier?
💡 Read the support article here.
1

Create your Zapier account

First, you need to open a Zapier account. The tool has a free plan.
2

Retrieve an API key from AntsRoute

Now you need to login to your AntsRoute account and retrieve an API key: 'API key' > 'Add' > 'Create' > copy the API key to the clipboard > 'Continue'.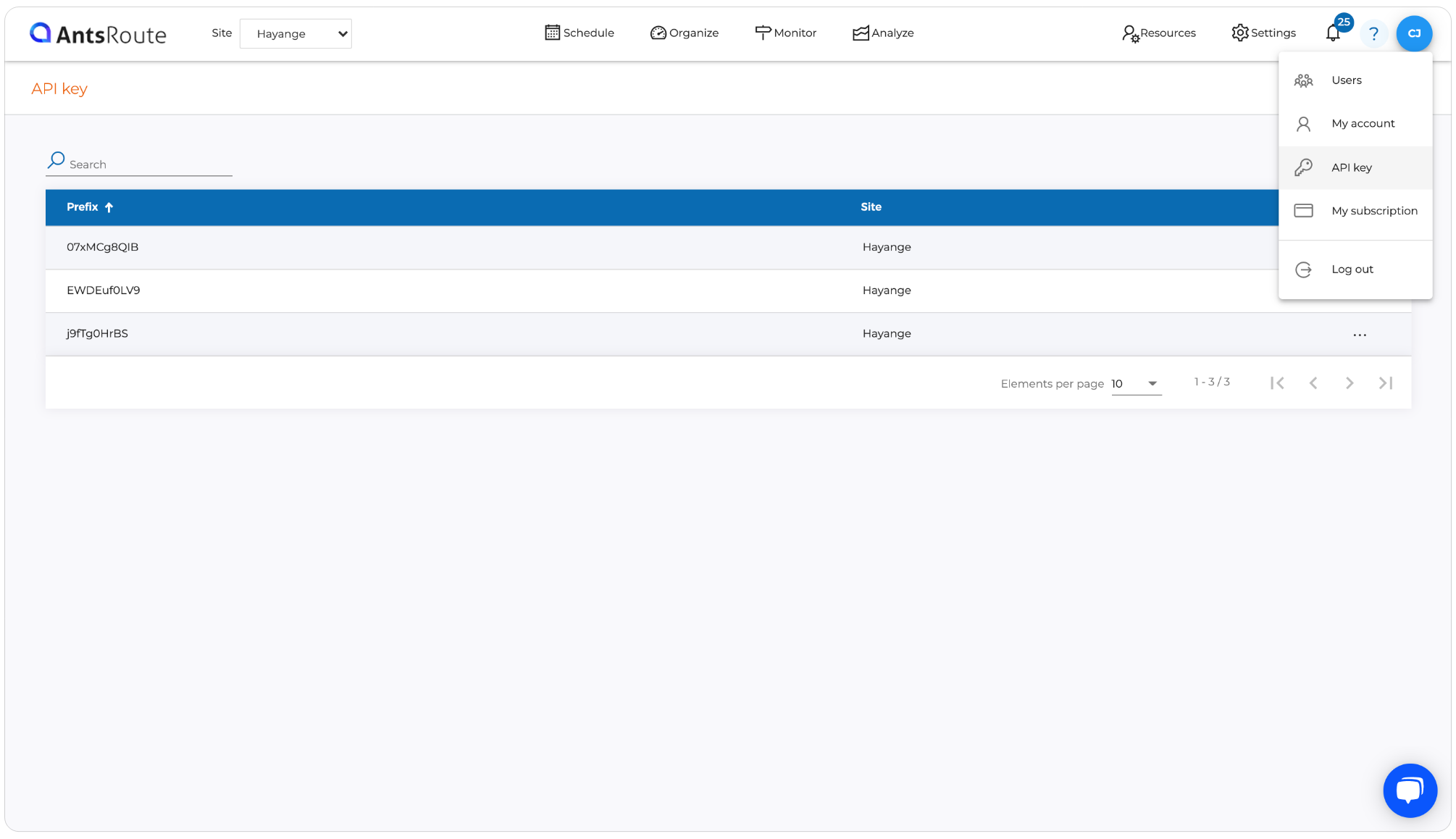 3

Create a Zap to connect AntsRoute and Zapier

Have a Zap idea for your business? From your Zapier dashboard, click on 'Make a Zap' and set up the trigger. Then add an action by choosing the AntsRoute app. In the 'Choose an account' step, click on 'sign in to AntsRoute' and enter the API key you got before.